Imperial Blades
I've had my Fein Multimaster for about two years now and it has been the tool that gets occasional use but was invaluable when it was either the only way to do something or made it so much easier to do a cut. BUT the blades were so expensive and didn't seem to last as long as they cost. So looking for a cheaper alternative to the blades I did a little surfing and found Imperial Blades which have just been picked up by Woodcraft. They weren't at the local WC yet but you can get it from WC online or go to www.imperialblades.com. The Fein original blades are generally 50 to 75% more expensive (or 33 to 43% less if you look at it the other way) than the Imperial blades so I took a chance on them. The 2 1/2" wide costs $14.95 while the Fein equivalent runs $26.30. The Imperial blades seem to last longer but its just a subjective feel and I haven't done any tests that were objective. The blades cut very quickly and the cutting quality is about the same as the Fein blades. The blades have a larger set than the Fein's which might explain the more aggressive cut. The blades will also fit other brands of Multimaster type tools.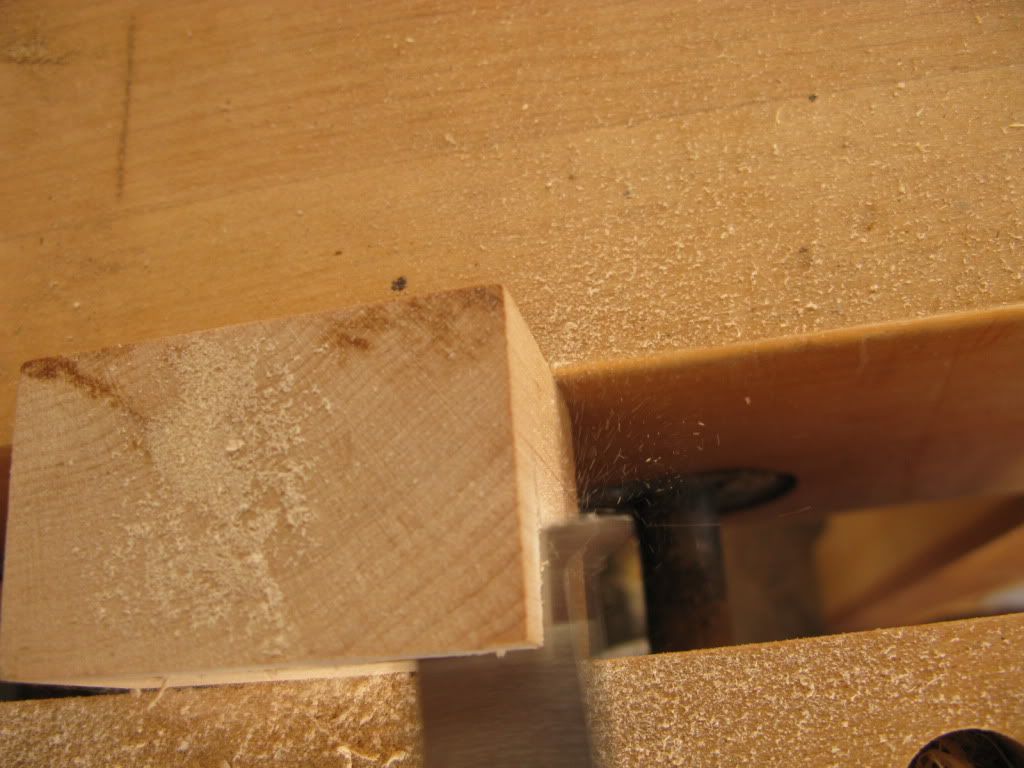 Photo: This is cut with their 1 1/4" coarse wood blade. Wood is maple about 1 1/2" thick by 2" and took about 10 seconds to go about 1/2".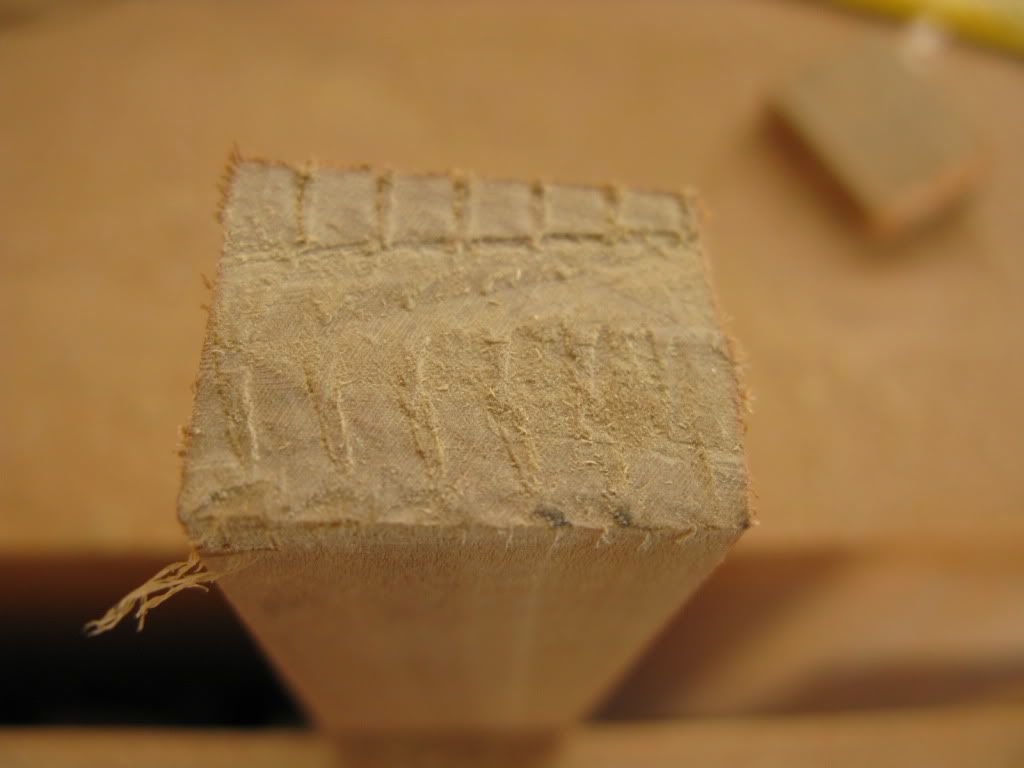 Photo: This is cut with their 1 1/4" coarse wood blade. Wood is poplar about 1" square and took about 5-6 seconds to cut through without much pressure.
Photo: This cut with their 1 1/4" fine wood blade. Same wood and maybe 7=8 seconds but a smoother cut.
The Fein bi-metal blades are butt welding so look like one piece whereas the Imperial are all slightly overlapped and welded. I haven't had any problems with this setup. They are also a bit thicker which might explain why they seem to last longer. They cut very quickly and the quality of the cuts are very nice. I've tried them on maple, fir, poplar and on floor laminate and I don't have a problem with any of them.
Photo: This the overlap between the two metals used to make their blades. Haven't had any problems with blades getting loose or any other problems.
Have also tried their 2 1/2" coarse and fine blades and they work very nicely cutting wider stock. Cutting wider stock is slower but about the same as the equivalent Fein blade. Also used their scrapper blade which worked great when taking off glue when pulling some carpet. Round shape helped to prevent corners from digging in but might not work so good in corners but I have the original Fein scrapper so its nice to have both.
Just a little tip. I had to sand inside of a slot so I took one of my worn Fein blades, filed the teeth off and stuck the face of the blade on a Porter Cable sandpaper that comes in a roll. Then using a box cutter, cut the sandpaper around the blade and whalla, a little sanding pad. Cleaned out the slot very easily with the Multimaster and several grades of sandpaper and its great for sanding into corners or small objects. Won't take the place of an orbital or 1/4 sheet sanders but great for tight places. And it was pennies compared to buying the triangular sanding pads.
I think there might be a few other multimaster owners (or similar tools) looking to save a bit of money. I think these blades are an excellent for the price.
-- Wood Menehune, Honolulu
---
---
---
---