This is actually a review of two products. I had bought a cheap little Pocket Microscope from Lee Valley that was about $10. Took a look at some of my blades and found problems that explained why they weren't cutting as nicely. It was really fascinating. It has an LED light that is above the object which illuminated the blade clearly. It has a base that easily comes off which is how I use it. I highly recommend it to any one that sharpens his own tools. It is extremely cheap and you can give it to your kid to play with if you upgrade or get tired of looking at blades. It's a 40x power and uses plastic lens but clear enough to see problems with sharpening.
I decided I wanted a better microscope, something that I can save pictures with and is binocular because I can see it much more clearly with both eyes. Also when the camera is on one eye piece I can still look into the other one. Did a lot of surfing and found this one. Seems to fit all of my needs and having a camera helped me explain to my wife that it was to show my grandson the splendor of nature. You know how that goes.
Was honing a low angle 50 degree blade and it didn't cut any better. Did it twice with no improvement. I thought it was just that 50 degree blades don't cut as well. When I looked at it with the Lee Valley microscope I saw the image similar to the one above and "whalla" there was a micro bevel so I had never reached the edge with my 3000 grit stone. I kept the blade as is because I was thinking of buying a better microscope and wanted to take pictures of my progress. So after the Amscope arrived I pulled out the blade and took this shot. You can see the area that was not touched by the honing stone.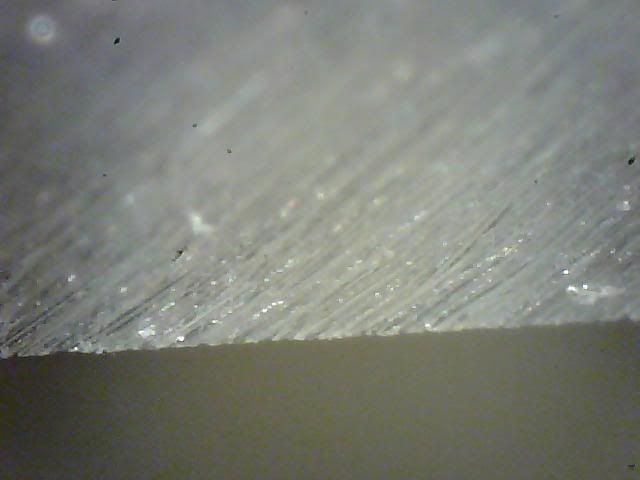 Used an extra course diamond stone until I reached the edge along the whole length of the blade. Pretty rough looking. I could stop when the whole length was reached and didn't have to over do it. Also nice on the hands.
Went to a course diamond stone. I usually sharpen at between 30 and 45 degrees but since this is a 50 degree bevel the bevel is very narrow and I went to a steeper angle to hold the bevel more easily. Also I sharpen both right and left handed so there is equal errors if any. Reason for the cross pattern.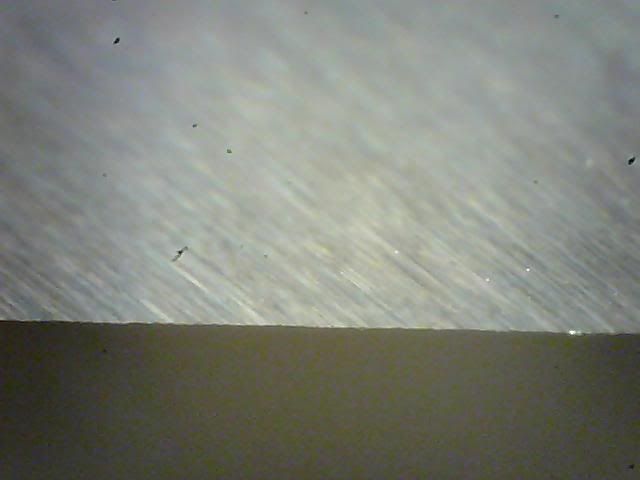 This is with a King K55 stone which I think is a 1000 grit. Getting smoother. I was surprised that it didn't take as long as I had been doing in the past.
This is with a Japanese natural stone around 2000 to 3000 grit. Getting there.
This is with a King G1 8000 grit stone with a natural nagura stone. The nagura breaks down finer and finer and creates an even smoother scratch pattern. Almost no scratch marks. The camera I think has a final magnification of 40x. [ooops! for the photos it was set on 2x plus the camera is a 10x so final magnification is 20x] The microscope has a 20x eye piece that puts the final magnification at 80x. [microscope has a 2x and 4x objective and 10x and 20x eye pieces and has final magnifications of 20x, 40x, and 80x] Still difficult to see scratch patterns with the higher magnification on the G1.
The blade cuts amazingly well on a piece of hard maple I was working on. Surface feels like a piece of glass and has a shine that is bettered only by my Japanese plane. But the Japanese plane has a final angle of 37 degrees and does not do well on curly maple. Having a 62 degree plane (50 plus the 12 low angle plane) cuts hard wood very nicely and cut through the curly parts with no tear out.
It was nice working the extra course stone and do it until I covered all parts of the blade. Didn't have to over do it to make sure I got to the edge. At one point I thought I had gotten all of the blade with the 8000 stone but but the microscope revealed that there was an area that still had scratch marks from the previous blade. Will post picture of the shaving I got from the blade.
It is really nice having a really good microscope and its much easier to look at the blade but if you can't afford it the $10 Lee Valley is good enough. I got so involved with microscopes that I bought a nephew a $40 microscope kit but its horrible. Really blurry and difficult to focus. Useless as a tool to inspect blade edges. The $10 LV microscope is much better.
Sorry I thought the little black rubbish was my monitor but I had some dust particles on the camera lens. Cleaned the lens and it went away but I had already gone through the sharpening process. I learned my sharpening technique from a tool master in Japan, Toshia Odate's book on tools (have to look up the title) and from helpful people at Hida tools.
-- Wood Menehune, Honolulu
---
---
---
---