I lucked into the closeout deal at Woodcraft where it was being sold for $150. Shipping was $75. As I live in an apartment in NYC, I had it delivered to my sister's house as she has both a garage and an SUV I could borrow to get it to my shop which is in Pennsylvania. It was shipped the same day and it arrived in three business days. I was concerned about how I would get it out of the truck, but the shipper had a liftgate and it was no problem. The best news was that it fit in my car: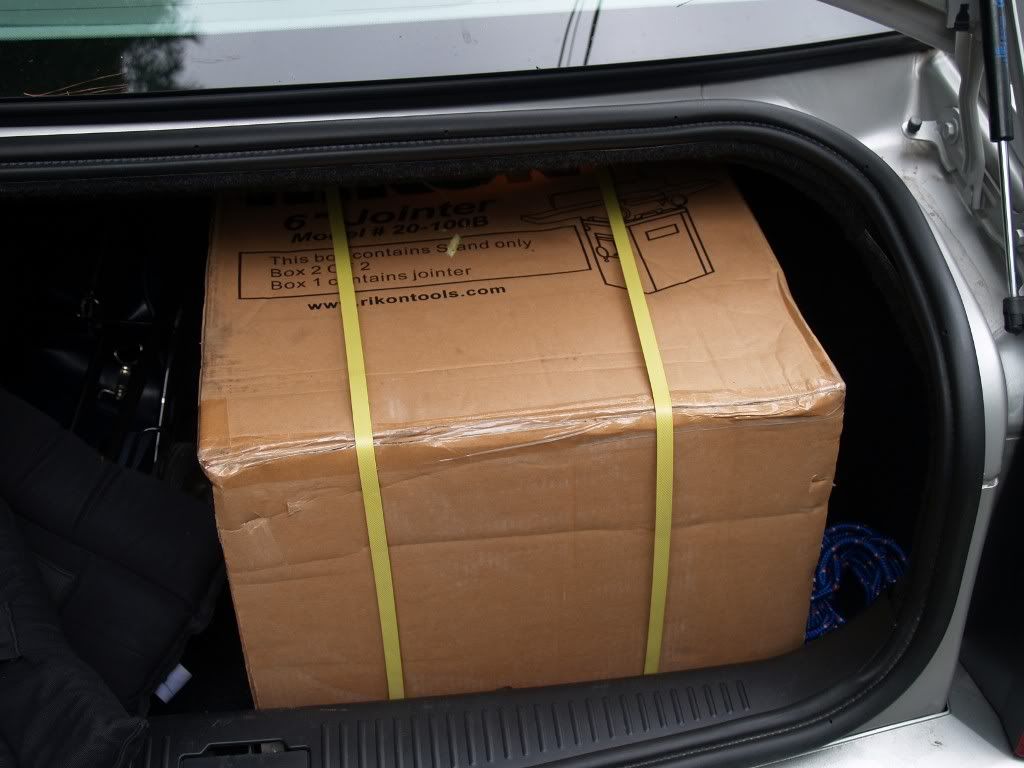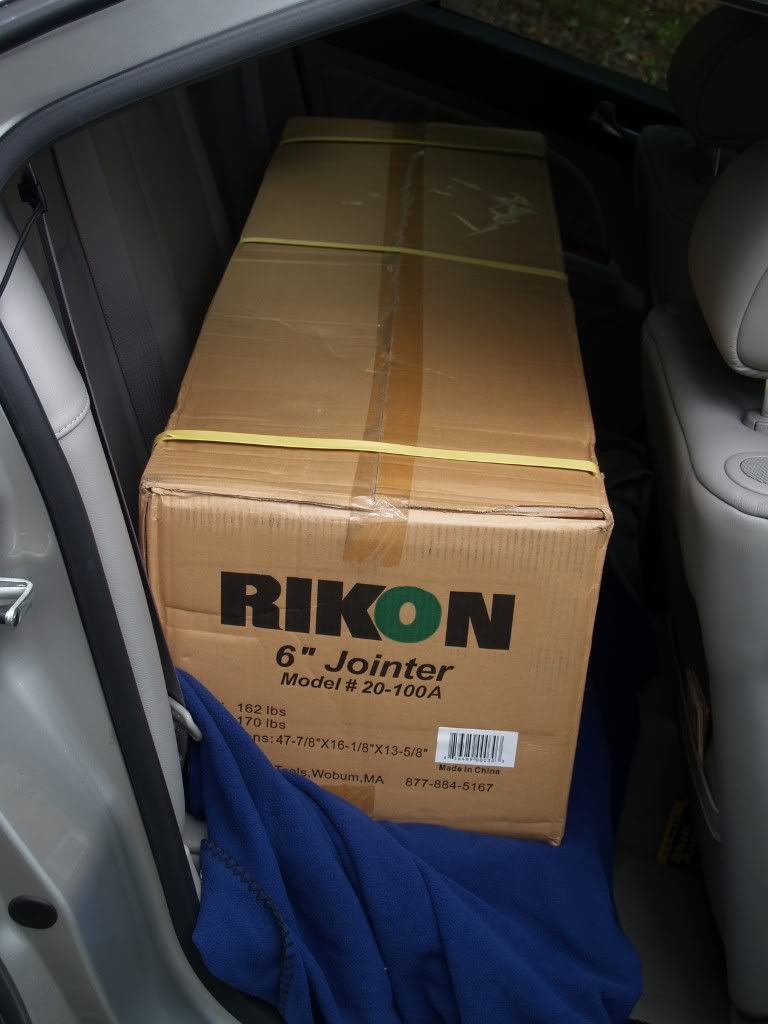 I realize that this is somewhat off-topic for a typical review, but I feel that this is useful information in that big machinery can be very difficult to physically acquire.
Cleaning and setup took about two hours, taking my time. Here's the top after cleaninng:
I had absolutely no problems with assembly or setup. No missing parts, no horribly buried bolts to tighten, no doing it wrong then having to go back and do it right. I tool my time, read the manual and did the parts inventory before I began. The base is very nicely finished, the metalwork is straight and square and the door and dust port fit nicely. I didn't have to adjust the motor position.
The body of the jointer is a mix of rough castings and nicely-machined surfaces. The infeed table and the outfeed table were smooth and flat as far as I can tell (using my level as a straightedge, I could see no obvious dips or bumps).
The knives needed no adjusting whatsoever. The fence stops for 45 and 90 degrees did need to be touched up, but that went quickly. The infeed and outfeed tables were co-planar and needed no adjustment except for height. Table height is adjusted using handwheels. Here's one area where it could be better, There's a fair amount of lash in the wheels. It's not a big deal as it doesn't really affect the result, but this is one area where the low cost of the tool is apparent.
The power switch is something of an impostor. It looks like a proper magnetic switch, but it is a mechanical switch. I discovered this when I plugged the jointer in and it started up. Luckily, I was running through a power strip and it popped the strip's circuit breaker.
The unit is very quiet. There is minimal vibration. I didn't try the nickel test, but I feel it would pass without problems. The motor takes about 1.5 seconds to come up to speed, almost like a soft-start router. I like this.
How does it perform? In a word, fairly well. I faced-planed some 24" long cherry and the face was nice and smooth. I couldn't see any knife marks and there was no tearout except at the very ends of the boards. I then edge-jointed the boards and looked for gaps by holding the boards toghether and looking at a light source. I couldn't find any.
This is my first big jointer. I have the ShopSmith 4" jointer so I'm not a stranger to them. In all, I'm very happy so far. This model has been replaced by a machine that has it's power switch on a post, probably for safety reasons. I'm looking forward to milling some of the short logs I have in the driveway now that I have a jointer with enought capacity to give me flat faces.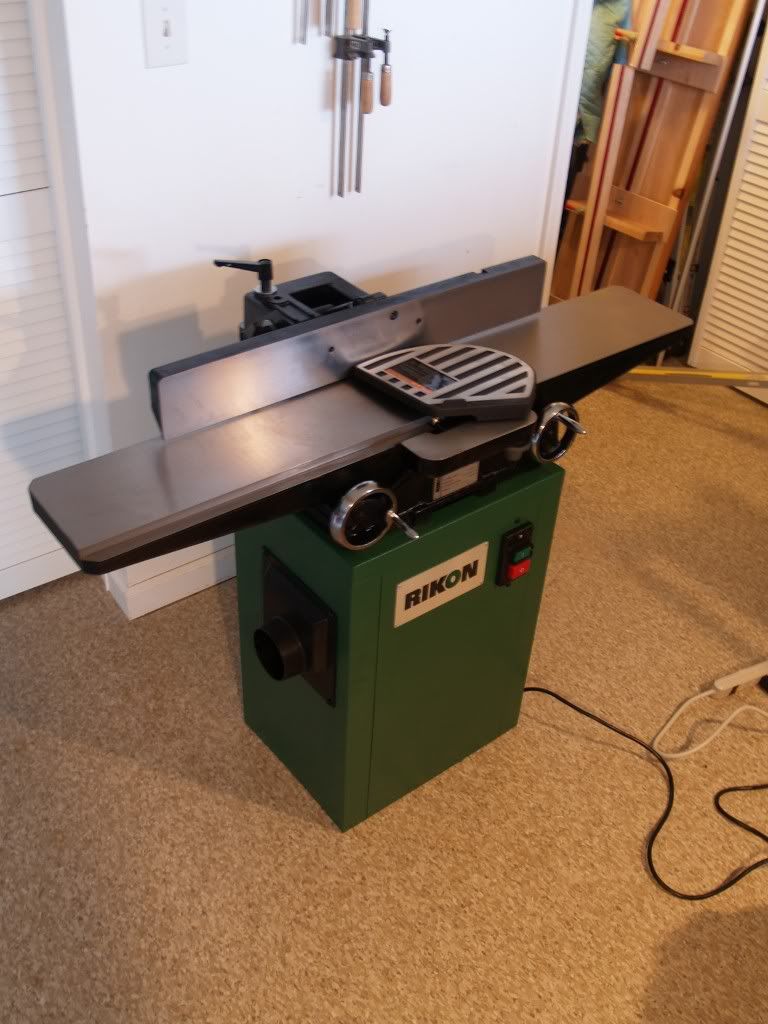 -- Altruism is, ultimately, self-serving
---
---
---
---