Mechanix Wear Gloves
When I am out in the shop I always wear gloves to protect my hands from bangs, bumps, scratches, cuts and anything else that can happen. I have tried various types of snug fitting gloves, but the ones that I reach for most often are the Mechanix Utility All Purpose. http://www.mechanix.com/hardware/utility-glove
This is what their site says . . .
For a work glove that features quality and value, step up to the ?all-purpose Utility Glove from Mechanix Wear. It is perfect to have on hand for a wide variety of small and large jobs. This glove is constructed with a two-way form fitting stretch Spandex top and stretch panels between fingers for extra dexterity, along with reinforced Clarino Dura-Fit™ Synthetic Leather thumb and index fingertips for improved strength and protection. Slip them on, fasten up the hook and loop closures, and you're ready to handle almost anything.
Most of the gloves I have tried are way to big and do not offer a snug fit. These gloves, while offering excellent protection, also offer good dexterity. The palms are super long wearing and the mesh back allows cooling for those warm days. Conversely, they do not offer a substantial amount of warmth on the cold days in the shop . . . they just take the bite out of the cold.
Recently while working with the band saw the blade kissed my middle finger. The cut was deep, however in my opinion could have been much worse if I had not been wearing these gloves. You can see the glove . . . not even cut. Talk about tough.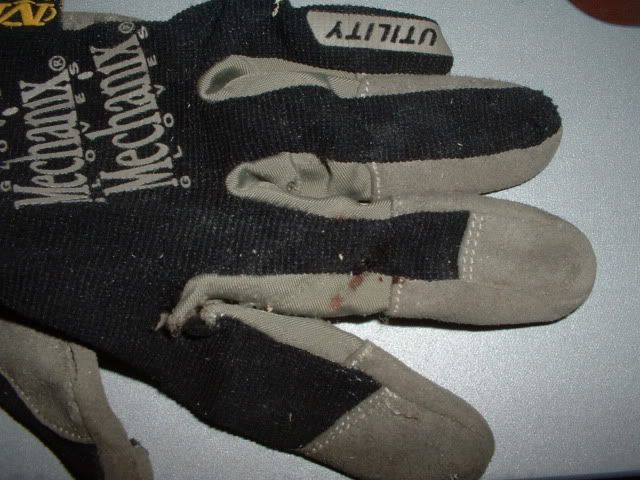 These gloves will remain a staple in the shop . . . however I will be exploring other models of Mechanix, with a little more armour, to use around the really sharp power tools.
Note: Main product picture borrowed from the manufacturer's site.
-- BLOG - http://www.colorfulcanary.com/search/label/Zuki
---
---
---
---