I know that there have been a few reviews of this sharpening system… but I got one a while back and I just wanted to review it and let all my fellow Aussies that it is available here now..
This is the easiest way to keep your hand tools…. chisels and plane irons … sharp… Also great for turning tools and carving chisels… curved as well as straight..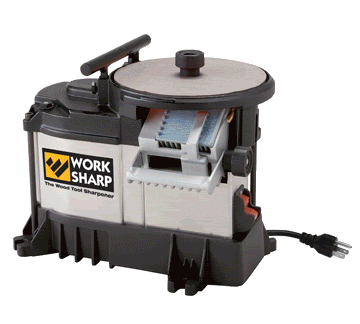 "Work Sharp" is an innovative grinding & sharpening system for sharpening Chisels, Plane Blades, Scrapers, Axes and much more with speed & precision. Work Sharp offers 3 easy ways to grind and sharpen: The Chisel and plane iron port, freehand on top for larger flat blade tools, and the Edge-Vision port, which allows you to see the cutting edge of carving tools, lathe tools and more as you sharpen or grind. The 2 sided grinding wheel allows you to quickly and easily switch between coarse and fine abrasive disks.
I had been looking at the Worksharp sharpening system for some time… on the web… I had read every review and watched every video… over and over again. Every one of these reviews was favourable and many of my friends on Lumberjocks have one and have commented on them… I knew i wanted one but it was pointless trying to import one into Australia… different voltage..oh well..back to sandpaper glued to a granite slab..I had even tried all the jigs and stones… but I am not really into all the work that is required… I am after Lazy Larry…as for the water wheels… either they are messy or terribly expensive.. Even though the Worksharp 3000 is a little on the costly side the speed and proficiency of the machine in sharpening all tools with minimum effort makes this worth the money..
And then lo and behold I was looking again and saw that they were being imported into Australia… Industrial Tool & Machinery Sales are Importers & National Wholesalers of a wide range of quality engineering machinery & equipment. So I went to their website and could not find any resellers or prices… So I rang them up to find out where I could buy one of these machines..and how much one would set me back..
.After talking to one of the guys at Industrial Tools, I decided that as a small shop I should probably get the Workshop 3000.. it has a few features not available on the 2000 which is still a great little machine in its own right. At 10 o'clock the very next morning a big courier truck arrived at my workshop with a big box… the Worksharp 3000 was here..Inside the large box was the machine itself, a wide blade attachment for plane irons larger than 2 7/8 inch and all the accessories… 2 glass wheels to atttach the self adhesive sandpaper … a different grit on each of the 4 sides.. a slotted plastic wheel and slotted paper for under the wheel sharpening…curves chisels and gouges…plus several sheet of various grit sandpaper.. and a replacement sheet for the sharpening port.. You can see the ins and outs of this machine on the video

but I will be making a short video when I get my camera.. Just to show how a bloke like me can get chisels scary sharp fast and easily with little if no effort…in almost no time at all…I got one of my trusty rusty old bought at a flea market chisels and after less than 10 minutes had flattened the back and sharpened the chisel so sharp I could shave the hairs on my arm… and it had a mirror finish..and I did not have to do much… the machine seemed to do all the work for me…Just had to turn over the glass wheels a few times and voile done… next came a near new chisel which took so little time to bring it up to par I was really amazed.
-- Don't drink and use power tools @ lasercreationsbylarry.com.au
---
---
---
---