A while ago I posted a review on a decimal measuring tape and some of you liked decimals.
If you haven't already HERE is it.
Well for those of you that do, I have another product that uses them. It's the Incra Professional T-Rule. As you can see from he first picture it has the same features as the regular Incra rules except this one has markings for decimal and metric! Now this feature is only included on the "Professional" model. Also it still retains the standard fractional holes down to 1/64".
There are holes every .010" of an inch which is fantastic. Anything more would be useless since that is about the width of a pencil line.
Metric also has a hole every .5mm for those outside the USA (even those withing the USA) using metric.
It also has markings on the end that you can use to set the height of your cutting tool (see picture).
You can get them in 3", 6", 12" and 18", but the decimal/metric version is only available in 6" and 12".
By now I think everyone knows the great features these have but for those who don't here is a little video
to show you.
.
.

.
.
I got the 12" set which included the T-Rule, and Bend Rule, and a Marking rule. Each has a great feature that
makes it stand out.
Next is the Marking Rule. Now this doesn't have the decimal holes for marking, but it is still pretty useful. The thing that sets this apart from everything else it the half slot on the edge. It allows you to mark a line centered on the end of the rule and not past the edge. If you're not sure what I'm talking about, watch the video and you'll see what I mean. Like the video shows it makes a great compass.
You can get them in 3", 6" and 12"
.
.

.
.
The last one in the set is the Bend Rule. This one doesn't have the decimal holes either but still has one great feature that you can't get anywhere else. It has holes at the end on each leg which is great for marking things such dados on the end of a board. I also like being able to mark two adjoining sides at once without getting out the square.
You can get them in 6", 12" 18"
.
.

.
.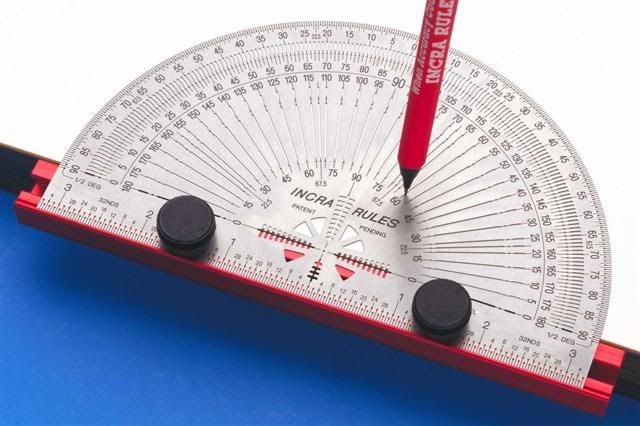 .
.
I also have a Incra Marking Protractor. This is a great little tool also. You can see all the features in the little video.
One extra thing you get with it is the 6" centering scale. Pretty cool!
.
.

.
.
I have seen another review for the bend rule which mentions that it's easy to bend. Well it is and it isn't. These are precision tools and I treat them so. I won't be leaving around the Bend Rule around waiting to drop something on it.
They are very thin, which is what makes them so precise. Anything thicker just wouldn't work or even come close to the things that these can do.
All in all they can do things no other tool can and I plan on keeping them a long time.
-- Gary - Never pass up the opportunity to make a mistake look like you planned it that way - Tyler, TX
---
---
---
---