The basic assembly process is simple: Slide a panel's edge bead into a groove in a post—that's it. Incidentally, this basic interaction is so intuitive that my 4 yr old took one look at a post and panel and immediately put them together. Within seconds, he had grabbed two more posts and panels and added them to the wall.

Tall Walls and Towers
However, to build a wall that is taller than a single post, there's a very simple additional trick: Instead of using a tall post and regular panel—which are the same height—you instead mismatch the post and panel. For example, if you start with a short panel and a regular post, the post will extend well above the top of the panel. You can then add a regular panel on top of the short panel, connected to the same post. But this time the panel will extend above the top of the post. Then add another tall post to that panel, and so on. Much like alternating bricks in a wall, the one short panel will offset the remaining posts and panels, interlocking them together. Finish the wall section with a short post on top to even things out. If you do this on four walls, you end up with a tower. Note the short and tall posts and panels alternating in the image below.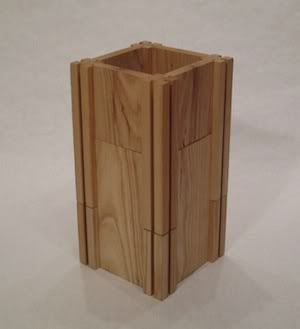 Windows and Doorways
But what if you want to have a door opening at the base of that tower? If you simply leave out the bottom panel, the panels above will simply slide down the grooves to fill in the hole. This problem is solved by using Pins to hold up the upper panels.
The pin is simply a piece of dowel that slides into the groove in a post. The next panel added above it will rest on the top of the pin and stay in place. When the rest of the tower is constructed, you'll be left with an open doorway the size of one panel.





A window can be built the same way, except that the pins are inserted higher up the wall, creating an opening in the middle of the wall instead of at the bottom.

Swinging Doors
This trick is courtesy of my 4yr old son, Owen. The first day they he received the Post and Panel set, he asked me how to build a door. He had immediately constructed a giant garage for his John Deere tractor, and needed a door so that no robbers would get in to steal it. Alas, I hadn't built any hinges, and because the panels and posts fit somewhat snugly, the panels would only pivot about 5 degrees offline. I told him I would have to build some special hinge pieces, but I never got around to it.
A month later, after again asking how to build a door, and again being told Daddy would have to create something to do that, he suddenly announced "I figured it out!" This is what he came up with:





Start with a regular panel, and attach a short post to the edge. Then place a regular pin in an unused groove in that short post, most likely using the groove opposite the panel. Next, slide another short post onto the top half of the pin, and then attach another regular panel to an unused groove on that second short post. You now have two short posts, held together by a pin, with each post attached to a panel. Because the posts are offset, their corners don't bind and they can pivot. Depending on which panel you attach to your permanent walls, the other panel becomes the door.
When I saw this in action, I almost fell out of my chair! Having designed the pieces, and knowing I had never designed them to pivot, I "knew" it couldn't be done. My son had no preconceived limitations, and so he wasn't bound by them. Fantastic example of thinking outside the box.

A Complete Castle
Here is a quick movie showing the assembly of a full castle, piece by piece…





Now that you've seen a castle being built, check out all the non-castle things you can build in the next entry, titled Much More Than Castles.

-- Pete in Wilmette, IL
---