---
I finished this a few years ago; soon after we bought our house.
My wife and I grew up in the "Pennsylvania Dutch" area of Pennsylvania, and because of this fact my wife has her own hobby: collecting quilts. When we bought our house she commented that she wanted her quilts hung on the wall in the living room, so I had to make a rack to hang them on.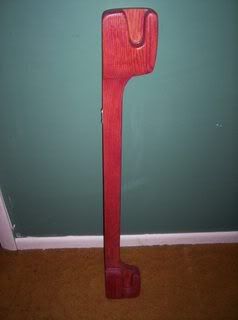 The wall is 19' long so I new it was going to have to be a different type of a quilt rack. I also knew I was going to use regular closet-rod dowel so I needed a way to mount the dowels on the wall. As you can see, she has quite a few quilts so there needed to be two rows of dowel rods: in fact there are 4 dowel rods because I could not find closet rods 19 ft long.
The three mounting brackets in the middle support the rods and the two end brackets keep the rods from moving too much over time. If you notice the bracket in the middle is double the width of the other two middle brackets to provide more space where all the dowels meet.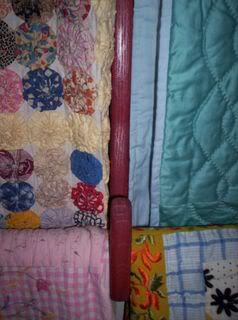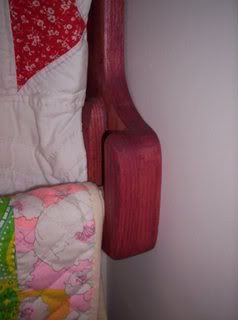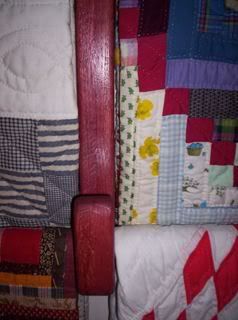 The wood is red oak and the finish is a colored stain: she wanted it painted but I refused to paint the oak, so we settled on a colored stain. A benifit of having this rack on the entire wall is that we don't use the heat in this room too much, but a small problem this rack caused is that one of her friends saw it and wanted one too and my wife now wants more quits to hang on another wall.
She shows off her quilts to everyone the first time they stop by so she must be happy.
-- Brian, Lebanon PA, If you aren't having fun doing it, find something else to do.
---
---
---
---