---
Here's a piece I made for some friends. It's made of knotty alder, with a copper panel for the top. I posted a lot of the build on our Furniture Makers Forum.
Some notes about the build:
- All mortise and tenon frame and panel joinery. The bottom, back and dividers are cabinet grade alder plywood. All the rest is solid wood. I tried to bookmatch all the panels. It made some of the knots look like owl's eyes.
- This is my first time working with alder. I enjoyed the change of pace. It's softer than the oak and walnut I'm used to, but the wood has great character.
- The knots give it a rustic feel. I left some hand plane tracks and even a little chatter around the knots. I really like this effect.
- The finish is Old master dark mahogany wiping stain. satin lacquer, and Howard's walnut paste wax.
It was tough to get some good pics of this peice. Now I see that a door was ajar in some of them. The copper is very colorful as you can see.
Here's a few shots of the build.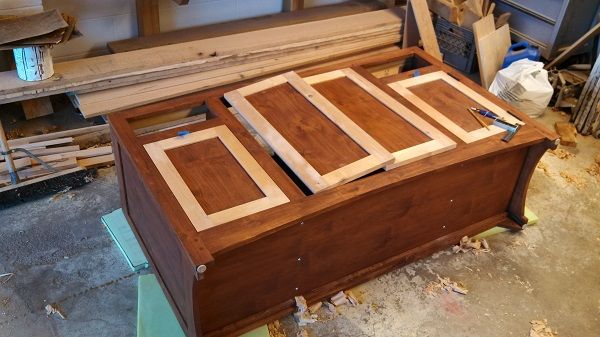 I know some people are going to ask about the copper process, so I'll give ya what I can.
First I used contact cement to adhere a roll of copper flashing to plywood.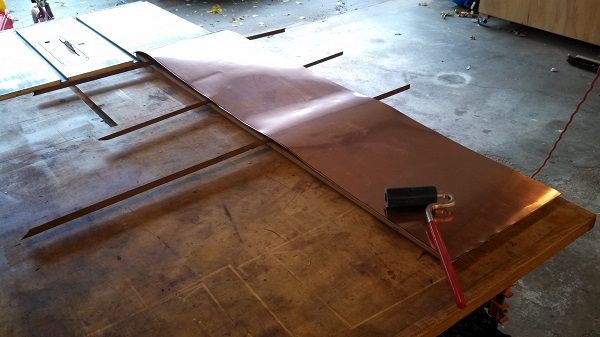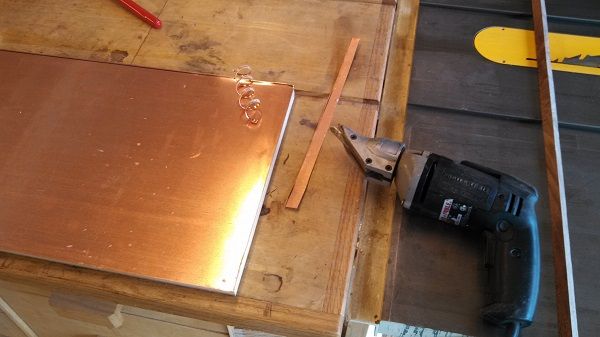 Then I used some stuff called "liver of sulfer" to get some funky colors. Yes, this stuff smells like a million monkey farts. Use it outside and let your inner Picasso out. Rinse with baking soda water to stop the reaction. If you leave it long it will all turn black.

Then I used a vinegar and salt solution. Cover it with plastic for an hour or so. Only let the plastic come in contact on certain parts…this will create different reactions. Mine looked like this now:

Rinse and let it finish reacting. It's a bit of a crapshoot. If you don't like it, sand it off and try again. When you get something you like….seal it with laquer. I really like how this one turned out.
Questions and comments always welcome.
Take care knuckleheads, Red
-- "At the end of the day, try and make it beautiful....because the world is full of ugly." Konrad Sauer
---
---
---
---