---
about a year ago, My Barber asked me if I could build his wife a Butcher Block Table? I said "Got a Pic?" He said Yeah, like this one. It Cost $1200.00 in the catalog.
I said, well, I don't have a lathe so can't do the round leg work but I could do some tapered octagons and come close to the rest so… here's what I came up with…It has the same look…KINDA!!!! His Wife LOVED IT!!! Guess that's all that matters. In retrospect, I should have paid much closer attention to matching the rails and drawer fronts to give it a more blended look. Lesson learned!!!!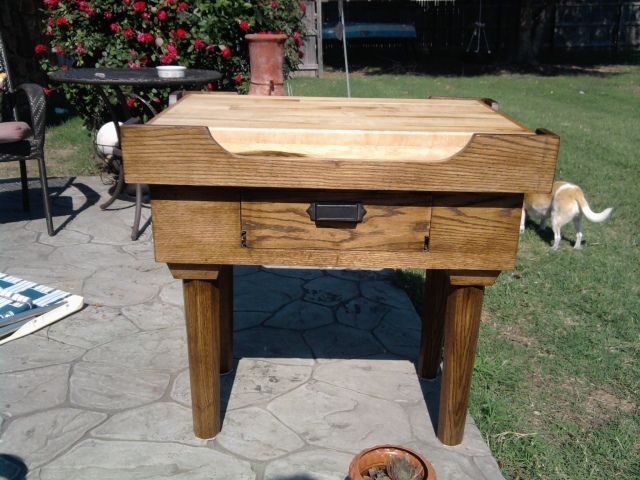 The Red Oak came from Trees that I had milled 4 years ago locally when we had a terrible Ice Storm. Got 200 board ft for $300. The maple was from a Gymnasium Floor that was torn down in a small town a few miles away. The Drawer is a pass through that opens from either side and is made from Hackberry from the same Ice Storm. Butcher Block weighs about 15 lbs and is removable for cleaning. Treated with Mineral Oil and Beeswax. Charged him $400.00 Took me about a week to build.
-- Still got all my Fingers!!!
---
---
---
---