---
34 years ago, I built a storage bed for my 4 yr old son. It was made from 50 year old Douglas Fir that I salvaged from an old garage built in the 20's. I'm really not sure why, but when he out grew the bed I put it in the attic and always took it along when we moved from place to place over the years (7 different moves over that time frame). He called me about a year ago and wanted to know if I still had it. I said sure. He wanted to know what kind of shape it was in. I said I'd check. Well, 34 years had taken its toll. The storage unit portion of the bed was in the garage and when I pulled it out…UH OHH, the Termites had gotten to it. Glad I discovered them and got the house treated. Had to cut out and rebuild one end of the storage unit. The head board and foot board and rails were not to bad but the glue joints were starting to separate and so, basically it all had to be taken apart and tightened up and re-glued. He wanted to Paint it so that would make things easier. Bottom line…A weekend of work and voila the Generational circle is complete My Son's Son is now sleeping in that old bed.
Heres the Head board and foot board as I found them.
Bed in Primer
Son and Grandson Painting it.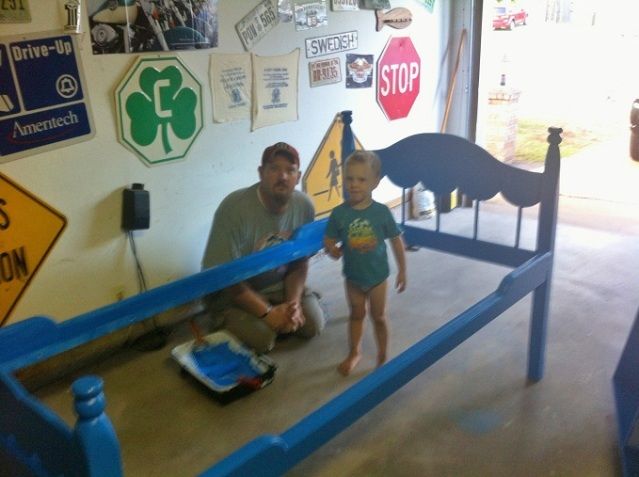 Finished Product!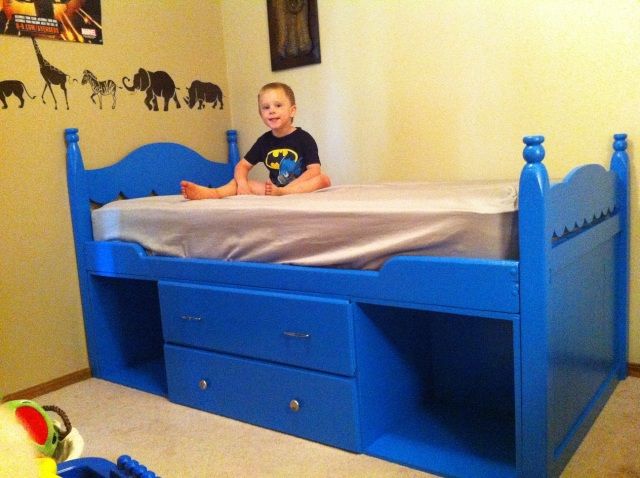 Sure glad I saved that Old Bed!!!!!
-- Still got all my Fingers!!!
---
---
---
---