---
Honest to goodness I do not know what was harder, cutting these two puzzles or trying to get a decent picture of them. I do not know why I was having such a hard time getting a decent picture of them but I was. I prefer to use room light when I take pictures of my projects and almost always do, however believe it or not all the fires and all the smoke and all the real crappy air we have here in these parts, (I live in northern Ca) damn near made a decent picture impossible. Well actually it did make it impossible . Sooo this is the best I could do.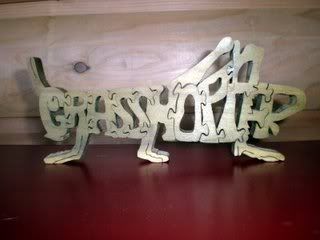 So here they are , finished. At this moment I only have a coat of oil on them. It is kinda hard to put a spray or any other kind of clear coat on them , because obviously just the slightest bit of build up inside would keep them from fitting back together again. Also I might add, that I have no plan on actually having these be a toy/puzzle etc, however any children that may be visiting may not see it that way and you sure don't want to apply anything that would be harmful/poisonous on it just in case that were to happen. Honestly I could tell you a story about a Jeremiah who broke the camel's back!
"My grandson on my picture here."

And believe it or not this greener of the two is the true real color, Why I simply could not catch the color on the grasshopper I am not sure. But this piece of green poplar is REALLY green. It's the prettiest and greenest I have ever worked with thus far!
-- Allison, Northeastern Ca. Remember, Amateurs built the Ark. Professionals built the Titanic!
---
---
---
---