---
While I was on vacation in Austria I came across a picture of the Faberge coronation egg. It was made for the Czar of Russia in the late 1800's and it was my inspiration for the design of the field in this tray.
.
.


.
.
Here you can see the technique I used to get the grid pattern. A bunch of spaced out cuts in curly maple filled with Peruvian walnut strips. Then after that was all sanded smooth I drilled a hole at every intersection which I later plugged with walnut made using a plug cutter. I could have used a dowel but I didn't want end grain showing. You can also see the splines I used to strengthen the corners and the mahogany ring around the center medallion.
.
.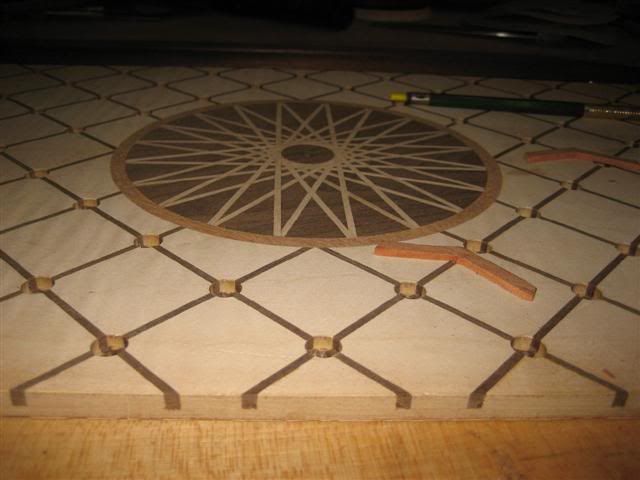 .
.
I figured that since I would be walking with the tray, being as clumsy as I am, I would add cup holders in the corners. I got the sizes from copying the cup holder in my car. It will hold a bottle or can and most other size of glasses.
.
.


.
.
Here you can see the handles. The curved parts are made of 3 pieces of wood with the inner part of mahogany at a right angle to the outer Walnut pieces to give it strength. The grip is made from Boxwood that extends through the curved parts also for strength.
.
.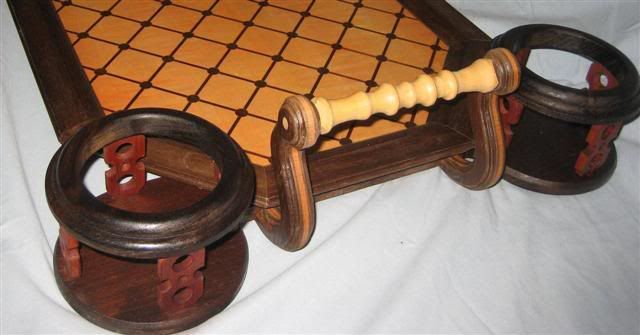 .
.
Lastly is a closeup of the center piece of the entire project. I wasted about 4 pieces of wood (on both sides) trying to figure out how to make this. It took quite a while to figure out what I was doing wrong and had to devise an entirely different method to make it.
If any of you are interested in how I did this, let me know. I will do a blog on it's construction.
It has a walnut background with inlays of maple, then surrounded by mahogany. It was the first part I made for this project since I new that it would take the most time to figure out. The entire piece was then inlayed into the center of the tray.
.
.

-- Gary - Never pass up the opportunity to make a mistake look like you planned it that way - Tyler, TX
---
---
---
---