---
This box was an experiment with double (or inlay) dovetails.
The woods used in this box are:
Front/Back – Honduras rosewood
Sides – Caribbean rosewood (this wood has incredible change in color…light-to-dark…with even the sliightest change in viewing angle, as it's turned in your hand, the constant color change reminds me of waves on the ocean)
Top – cebil
Base – hickory
Inlay & Top Centerpiece – birdseye maple.
Feet – cocobolo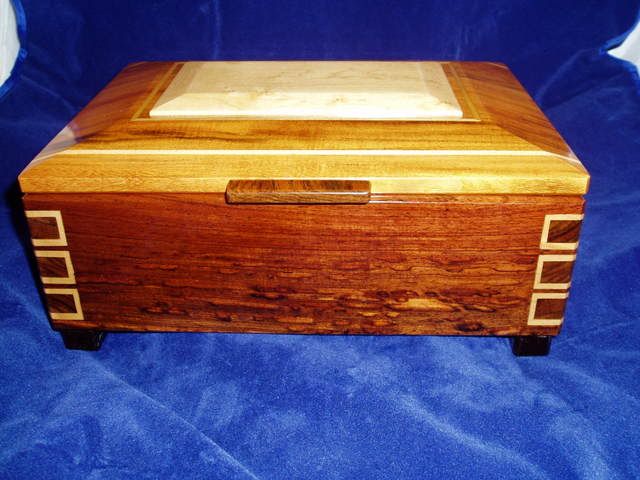 The dovetails in this box were all cut by hand. If you'd like, you can see the steps for this process at this blog which I posted several weeks back. To summarize this process, there are two unique aspects of this joinery, (1) cutting a rabbet at the inside of each end of the four sides of the box, and (2) cutting dovetails within dovetails after making the box once, cutting it apart, then doing it all over again.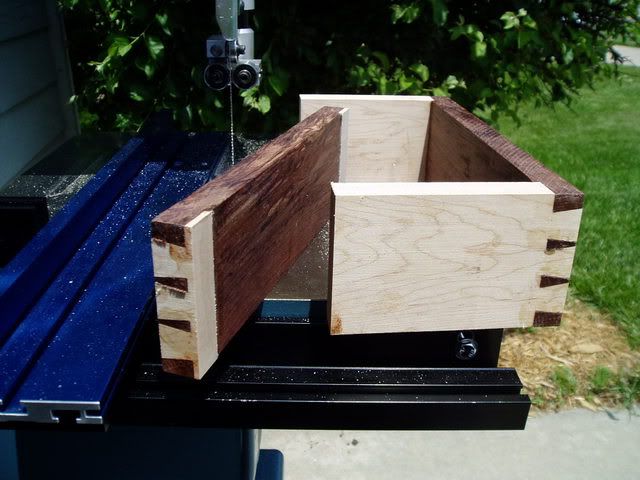 The top was cut apart in three pieces such that adding two strips of maple would align with the maple inlay dovetail at each corner. This somewhat gives the appearance that the inlay dovetail maple extends across the top and down the opposing corner.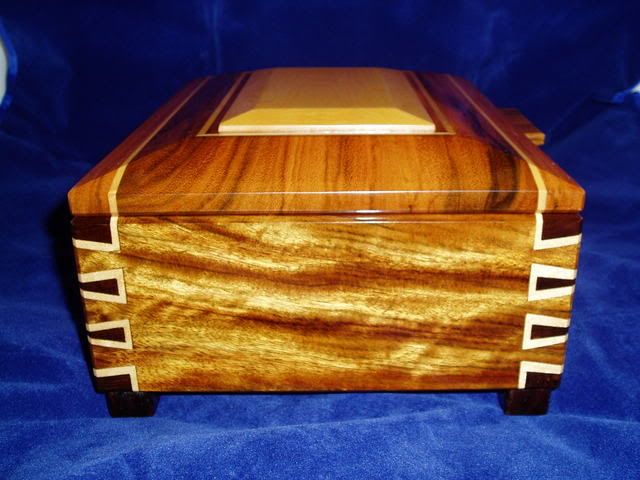 The lid has two sets of bevels on top (including the maple centerpiece) and two sets of "coffer" underneath. The coffer was for aesthetics but also to reduce the weight of the lid. This box is very heavy for its size. I bordered the initial coffer in maple to set it off.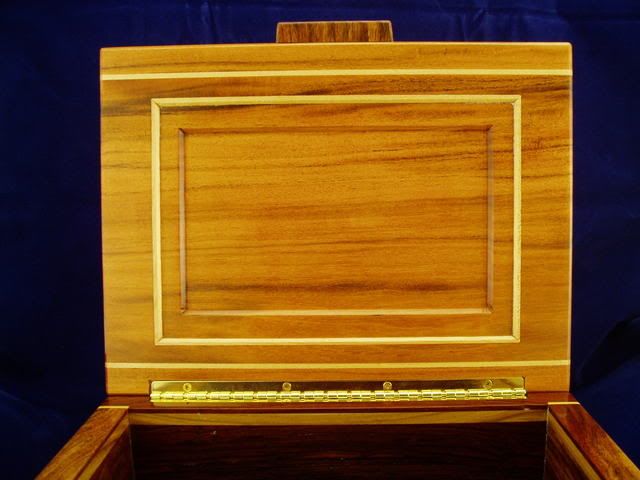 The dimensions are 10" by 7.5". The hinge is a piano style 95 degree stop hinge.
The lid handle is attached with a small 1/8" by 1 ½" mortise/tenon joint. The handle's ends are trimmed at the same 1:8 ratio angle as used in the dovetails.

The finish is an initial oil coat, followed by 11 coats of satin wipe-on poly/oil blend. Sanded to 1500 grit, and hand rubbed out with Briwax.
This was a lot of fun to make and I plan to make a few other variations in the future using this joinery. The maple "inlay" dovetail is 1/8" wide in this box, as is the 45 degree bevel on most of the outside edges. Aesthetically, I think the inlay dovetail looks a little thick, but with more practice, I plan to narrow this down to 3/32", perhaps 1/16"…we'll see.
-- Martin, Kansas
---
---
---
---