---
Here's a till I made for some of my hand planes out of white oak and walnut. The no. 5s are on the lower shelf, the no. 6-8s are in the vertical till. I'll be making another till for the smoothers and block planes.
Ramblings and pics concerning the build:
- The design is pretty straight-forward. I thought I'd spice it up a little putting through tenons on the shelves. My mortising machine wouldn't reach the mortises, so I got some good practice hand chopping.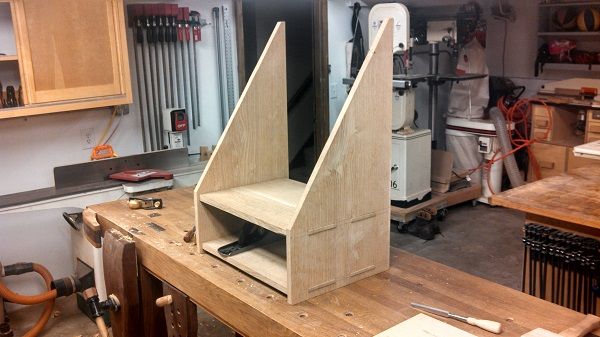 - But the quality stops there. The guts and the back are really a bunch of scraps and screws.
Well, the vertical till has some nice 1/2" oak ship-lapped. Notice in this pic that the middle slats are planed thinner creating a concaved surface. This is intentional so that that I can leave plane blades out without them digging into the till. The lower shelf with the jack planes was also planed with a recess prior to installation.

- It's mounted to cinder block with french cleats and cement anchors. I tested the till with my body weight before I put any planes on it;)

I'm really happy with it so far. I know not everybody wants their tools in the open (rust and dust), but this works best for me. I wax my tools and wipe them down with wd40 often, so it should be fine.
It wasn't until it was completely finished that it hit me…. I had just mounted some of my prized possessions next to the pipe in which our turds exit the house. (snicker) Ahhh…it's a little funny.
Questions and comments welcome you knuckleheads, Red
-- "At the end of the day, try and make it beautiful....because the world is full of ugly." Konrad Sauer
---
---
---
---