---
A thread Sac started on inlaying resin prompted me to show a little project using Corian and Inlace resin. I did this a couple years ago for a jewelry box project that still hasn't been completed (not really even started yet at this point). Got diverted with numerous other projects. But my sis lives in AZ and I thought it might be cool to inlay something from AZ on the box. I found this pic of an Arizona Swallowtail that is the AZ State Butterfly (didn't even know states HAD state butterflies).
So I considered trying this with ebony and yellow/blue dyed woods but didn't think I'd be able to do the ridiculously small detail pieces with wood. So I eneded up using black and yellow corian then black corian joint compound, yellow and blue Inlace. Most of the work was done with a Dremel (mounted in the drill press accessory), jewelers saws, needle files, engraving tools, and heavy magnification. The corian was resawn on the bandsaw from 1/2" x 4×4" sample pieces into thin veneers (< 1/16") then drum-sanded.
Here's the black corian with the recesses for the yellow and blue Inlace.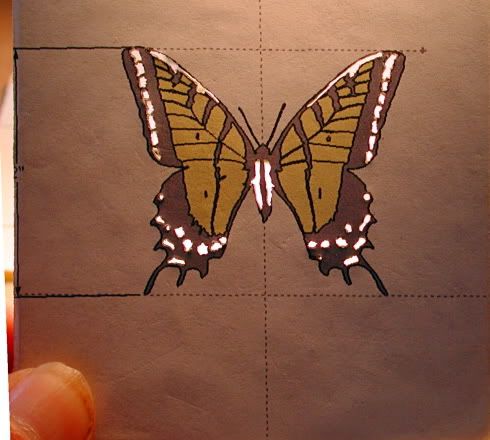 and another after the Inlace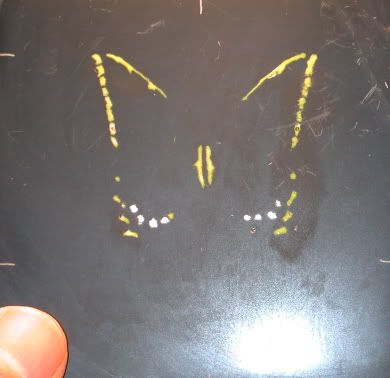 I somehow missed (or lost) taking pics of the 4 big cutouts for the yellow corian that followed later. But this one shows the yellow corian with recesses for black corian joint compound. Each wing was done with 2 pieces of the yellow corian then set into the black corian using more of the black joint compound. The vein lines on the yellow corian was done by engraving (rather deeply) then filling with more joint compound.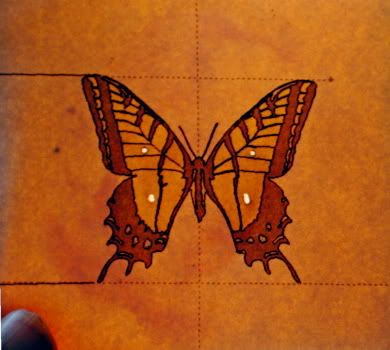 The inlace is very easy to work but needs to be applied fairly quick as it will start to harden soon after mixing. The fumes are pretty bad too, so aiming a fan to blow the fumes away from you is recommended and a respirator couldn't hurt either.
So the end result after quite a bit of sanding is this. I think it turned out pretty decent.

The whole thing if enclosed by a circle would probably be around 2-3/8" or so. The final outline will get cut with standard bevel cutting into a wood background then that inlaid onto the top of a jewelry box. I'll probably use some silver wire for the antennae. But I'm holding off til the box ever gets done before deciding on what wood to use for the background.
-- Use the fence Luke
---
---
---
---