---
This project has been a long time in coming, and it has become a tribute to the late George Carlin. Many years ago I heard George tell his story about "Stuff," and needing a place to put your stuff. Through the years I seem to have accumulated a lot of stuff that was someone else's junk. This project is a combination of other people's stuff they thought was crap, and the stuff I made to… you guessed it, put my stuff in.
The wood came from a local park where I spend a lot of time at volunteering as a Canal Boat Captain, and cutting grass. One of the guys that does a lot of the landscaping remarked: "That Cherry tree is dead and it is a piece of junk." I replied: "Do not worry, I can use that stuff."
In addition, a few years ago a buddy of mine was throwing away his double pen stand because he thought it was a piece of junk. I replied: "Do not worry, I can use that stuff."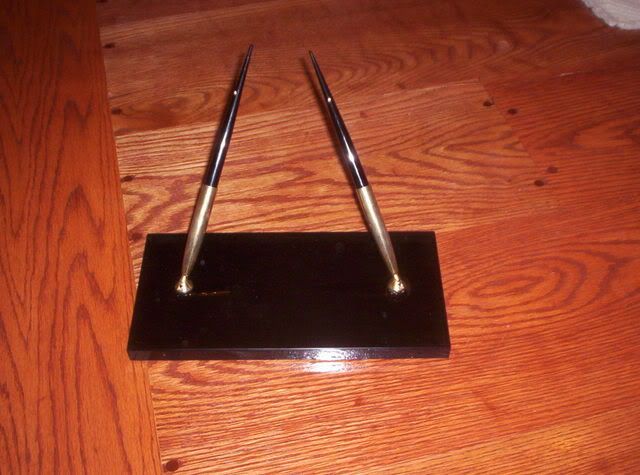 Doing my best imitation of George Washington, I cut the cherry tree down, and left it season for a few years until I was ready. I saved the wood from the fire place and the pen stand from the County landfill.
All of these pieces of this project came from the same chunk of wood and all are finished in tongue oil and a couple coats of poly.
The first piece is a pencil holder: dimensions are: 5½" tall by 3½" wide; the second piece is a small bowl to hold paper clips: dimensions are: 1¾" tall by 3½" wide; the third piece is a 3½" disk turned to hold the two pens from the double pen stand; and the final piece was a piece of burl from the cherry wood that I turned into a simple 6" dish to use as a place to put my keys and other items in my pockets when I come home from work: A Place For My Stuff!.
Everything about this project was considered junk by others. People looked at my tools and the wood that I used and thought it was crap: I took the time and energy to turn everything into something unique. Tell me what you think.
-- Brian, Lebanon PA, If you aren't having fun doing it, find something else to do.
---
---
---
---