---
Here's the lumber rack I just finished for my shop. You can see by the last pic, I was in desperate need.
Construction: Originally thought I'd make this out of southern yellow pine, but I had a lot of lower grade 8/4 white oak pieces I need to use up…..so white oak it was. The construction is pretty straight-forward. Ijust laminated some 2×5" stock. In doing so, I left specific gaps(plywood scraps) creating the dadoes to receive the arms. The dadoes are at a 4 degree angle in order to make the stock lean toward the wall.
Measurements: Basically the posts are 4" wide 5" deep, and the are arms are 2×4x26".
Everything was then hand planed fairly smooth. Really the parts are full of planing tracks. I like it that way. Finish is a couple coats of danish oil.
Last, I had to hit the Fastenal store for the massive hardware. Big 1/2" lags and cement anchors to mount to posts to the block wall. I think this should hold well enough. most of the weight is directed to the floor. Then some shorter lags hold the arms in place.
I really like it so far. But I know it'll never seem big enough. Questions and comments always welcome, Red
Construction Pics: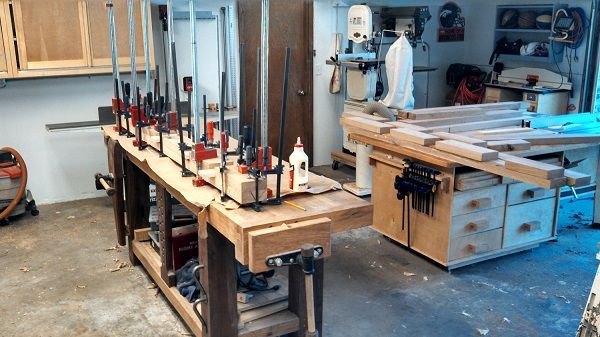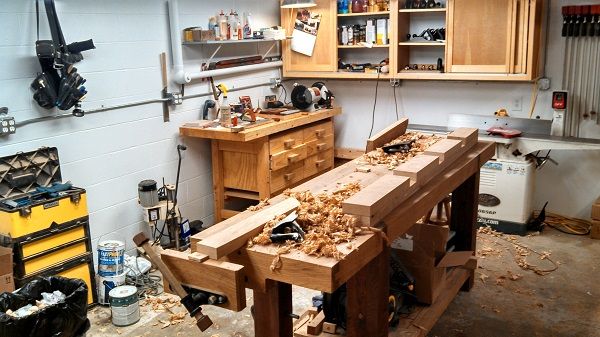 -- "At the end of the day, try and make it beautiful....because the world is full of ugly." Konrad Sauer
---
---
---
---