---
This was fun project to do. Well, a least it was easier than the crib I just finished prior to this. It's constructed primarily of walnut, with cherry drawers and internal pieces. The four corners are 8/4 squared up to about 1 7/8" and then a dado was ran down them for the the face and sides to fit into. All the drawers were constructed with finger joints. This was my first time making finger joints of this size, so there was a bit of a learning curve to get the jig set up right. They came out pretty good, with a super tight fit. Would have done dovetails, but I only have a half-blind jig so I didn't feel the need to go that route. That and I was in a bit of a time crunch. Baby was knocking on the door and this thing needed to get finished now! The slides used are all full extension and self closing. The drawer faces themselves were cut to fit extremely tight into the face of the chest. I wanted as little gap as possible to make for a smooth, flush face all the way down. This proved to be pretty tedious, but the end result was pretty good. The top for this came by way of a large piece of 5/4×14" S4S walnut that I got really lucky in finding. All I can ever seem to find is no wider than 8" or so, so this really made for a cleaner looking top. But getting that bevel on it was a bit of a challenge. I don't a chamfer bit big enough to cut all the way through, so I had to get creative with the table saw. And because of the size of the top, the ends could not be cut with top lying flat, so I used this little contraption.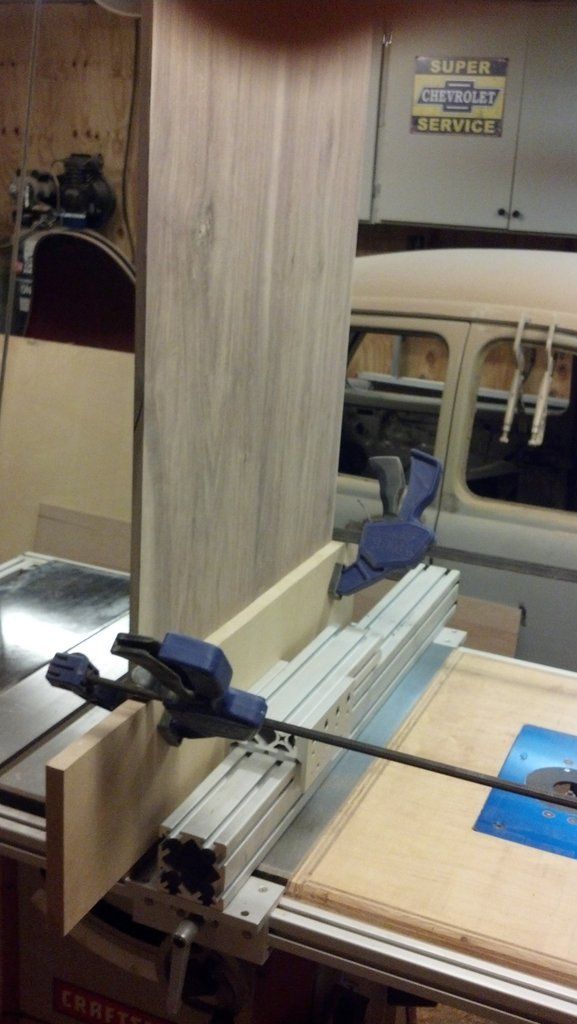 What you're looking at is a fence I made a while back to replace the POS one that came with the saw. It's 3×3 extruded aluminum riding on composite bearings. Then I added some more bearings and a short piece of 1.5×3 to the top to make for a cross cutting jig for doing stuff like this or cutting splines into the corners of boxes and picture frames. It worked very well and held that big ol' top very well.
After it was cut and sanded, the whole thing a shot of oil and three coats of arm-r-seal satin poly. Love that stuff!
Anyway, got this moved up stairs on a Tuesday. Baby showed up the next night! Couldn't have timed it better if I tried.
-- They who can give up essential liberty to obtain a little temporary safety, deserve neither liberty nor safety.
---
---
---
---