---
Got my first kid, a boy, due in a little less than a month and the wife was pretty particular on the type of crib she wanted. We looked at several cribs from various manufacturers, but the ones we liked were a bit pricey and the construction was just not up my standards for that kind of dough. So, off to the garage I go!
It is primarily all walnut. The rails and legs started life as rough sawn 8/4 walnut. The slats were from dressed 4/4 walnut and re-sawn on the band saw to 3/8". The curved slats on the headboard though, were a new trick for me. Looked into the different methods for bending wood and laminate bending seemed to be the best option for me. So the band saw came out and the 4/4 got ripped to 1/8" and then glued up and clamped. Worked out very very well. Only had about 1/4" of spring back.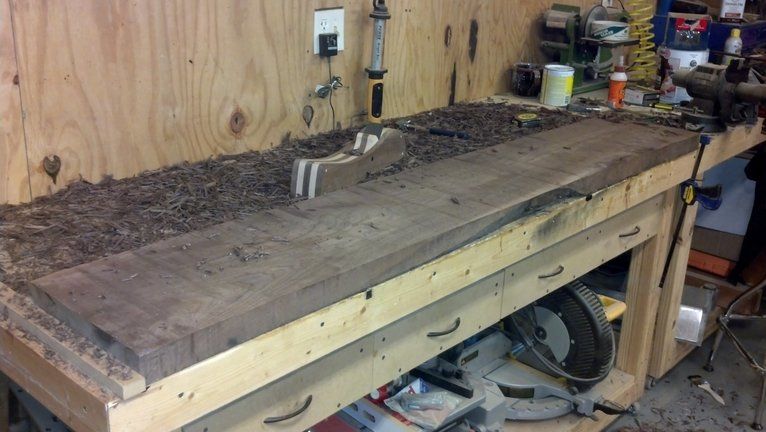 This was the first glue up for the back slats. Didn't realize I had a shortage of clamps and had to improvise. Needless to say, I may a trip to lowes. And of course, the wife critiquing my work.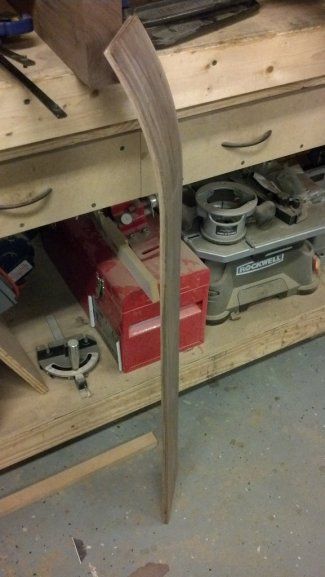 The curved head board and the foot board were another challenge. I could have used some 8/4 or thicker cuts to do them, but that would have resulted in me having to remove a considerable amount of wood. So, I got my hands on some 5/4 rough sawn and hand planed them to 1". Then ripped them with a small angle between the pieces to get a curve. Then hit them with the plane again and a whole lot of sanding. Came out pretty well, but did end up a few places where the the glue up can be seen. Not bad though. Also had to come up with some creative glue up methods.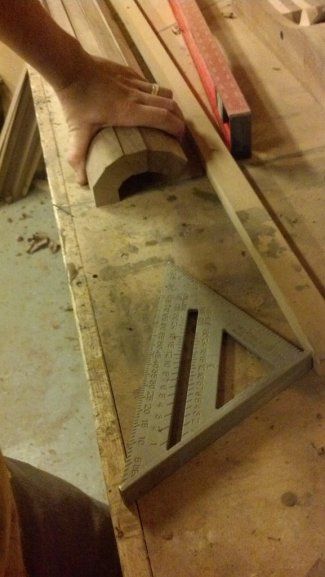 After all that was done, the finish was finally figured out. Sanded the whole thing down to 220, which I might say took a lot of time to do, then finished up with some natural danish oil and arm-r-seal satin. It's got a few little spots where the plane dug the grain a bit, but I'm not worried about it. It's all held together with mortise and tenon joints in the main pieces, and some hidden bed bolt kits from rockler so the main pieces can be broken down.
The mattress support was the next hurdle. Looked at a few options out there and decided I'd just make my own. It's made from cherry and uses 550 cord for the suspension of the mattress. The little legs under it are adjustable for several heights and use some quick release pins. Works pretty well and is actually quite sturdy.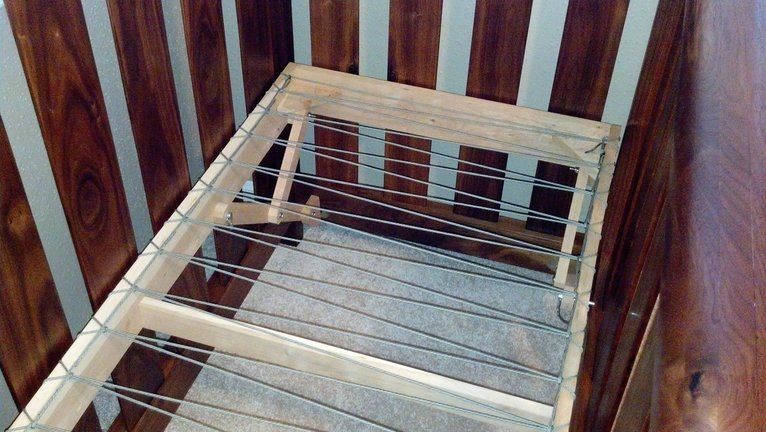 All in all, this was a great project to do. Ended up costing a bit more than what it would have cost to just buy one, but the end result is definitely much better. This one also will eventually be converted to a full size bed latter. And thank god for sketchup!
-- They who can give up essential liberty to obtain a little temporary safety, deserve neither liberty nor safety.
---
---
---
---