---
So there was a small problem in our house. Our three year old is very independent and will find the means or his own methods to accomplish the task at hand. Over the first three years of his life he has adapted the skill of climbing (anything) due to the fact at age three most are vertically challenged. He has expertly toned the skill of climbing and could pass for being part chimp. I admire the skill and his ability on most days. However watching him fearlessly climb and 8' ladder is a little unnerving.
This however was not the problem. I hadn't decided a solution to the problem was necessary until it became a normal task of repairing the one thing he kept standing on to reach his light switch. He has a dinosaur with a lexan or plexi globe that acts as a bank when you feed the Dino coins. The globe is split down the middle for coin retrieval and was a common foothold for a certain 3 yr old when straddling Dino for a better reach. It too often became a chore placing the two halves back together and picking up all the coins (which my son loved re-feeding to Mr. Dino).
A solution was necessary! I said "you need a stool." To which my son's reply was "Dad make me a stool." I had no choice but to comply. It was however his idea. He had a theme picked out and everything. He must've been scheming this from the beginning.
I had scrap everything from doing construction so the "stringer" was cut from construction grade 2×10 and the treads are 3/4" plywood with a round over routed on 3 sides. Joinery includes a mortise and tenon for the stretcher and pocket screws to keep the treads fastened down. I wasn't interested in spending much time or money the paint so there's two quick coats of gloss enamel of each color. The web was then drawn on the treads and burnt in with my Wally world wood burning craft pen. The spider was free hand cut from a piece of anti slip furniture pad and had a cool diamond pattern already on it. It was already self adhesive. Small hand holds were also cut into the bottom of the stringer for easier lugging.
All in all I think the customer was plenty pleased.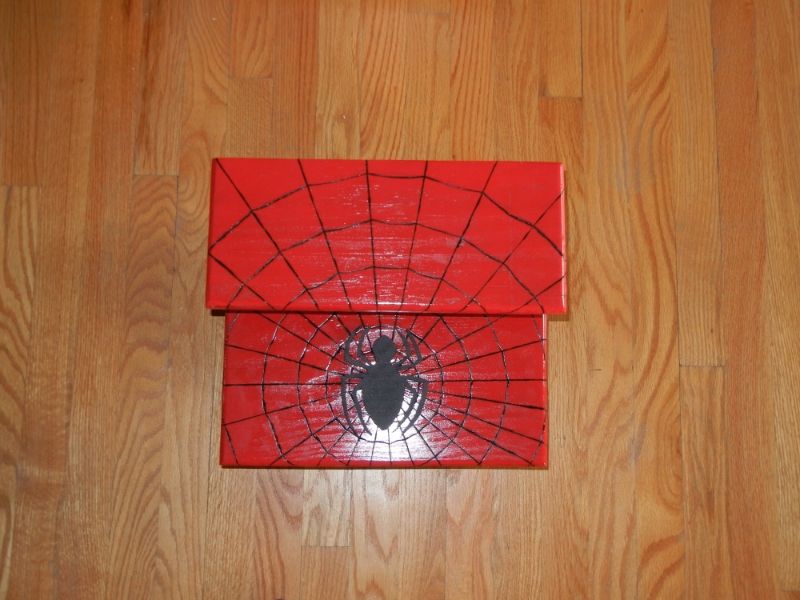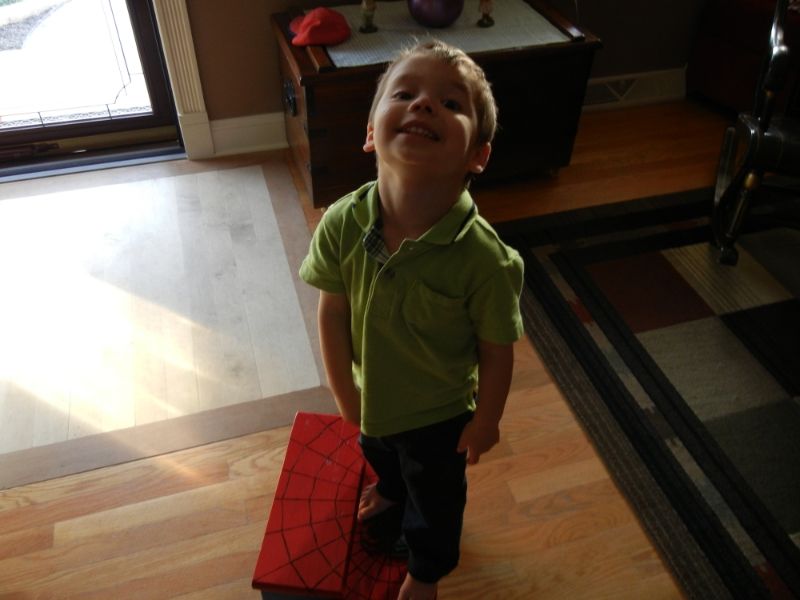 The funny thing is, the little monkey is hesitant to use the top step!
---
---
---
---