---
After taking my log building course this past summer, I realized the value of a peavey for moving logs around and for rotating the logs in place on a wall to find the ideal placement.
A peavey is basically a cant hook with a pointed end instead of the flat end with toothed edges. It can be used to separate logs, used use like a lever without the hook or used to rotate or roll logs using the hook. It has the advantage of being gentler on logs than a cant hook. This is useful for log building when the logs become your wallpaper and when moving valuable timber around. The hook normally digs into the bark or it is placed into a knothole if the log has been peeled.
Peaveys are simply not sold in New Zealand ( the ones for the course were imported from the US) and it seems uneconomic to import because of the size and weight. Taking on the Kiwi mentality of self reliance, I looked around to see what I could find and built my own.
This peavey is based on a traditional design but is home made from found parts, my new found welding skills ( which is pretty crappy but getting better) and home grown and harvested cherry branches. It consists of the bottom part of a discarded bicycle rack (the kind fastened to the the towing ball), a used Holden 3-speed transmission shaft generously donated by my garage mechanic, some flat metal from a recycled wrought iron outdoor light and some steel tubing from a retired treadmill. Total cost : $0.40 for a bolt and a nut.
The handle comes from a cherry tree coppice, after some much needed trimming in the early fall, dried for about a month with the bark on, then debarked and dried for another month, then drawknifed to shape for final fitting. It's about 3 inches round.
A few more pictrures in the 'making of'....
This is the cherry tree from which the handle came from ( this is already after trimming, so you can see I still have a bit more work to do- yeah, more tool handles!)

The cherry branches dried for about a month before I selected one of them for the handle and put it under the (draw)knife. Looks like there's a few more projects in that pile!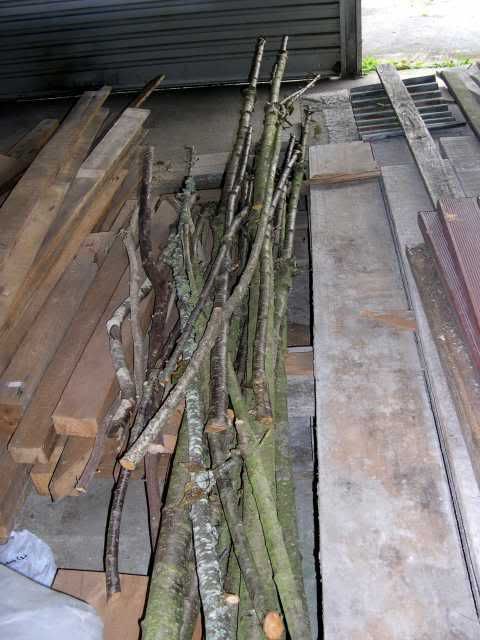 Drawknifing the cherry handle before letting it dry for another month. You can see one of Niki's cloned clamps being put to work as a hold down.
These are the metal bits, shown in fading glory of their past llives. Clockwise from the left: wrought iron hanging outdoor lamp, a portion of the treadmill (top) and the Holden 3 speed transmission (right). – looks like there's enough left over to make another one! The bike in the background was salvaged. It's 25 years old but it's still serving duty as my daily commute.
Just before the bke holder (left) and the transmission shaft got welded up. Still bears a bit of a resemblance to its previous duty.
And a final look at it all put together.
These pictures were taken before the final painting of the metal ( at least initially for some rust protection) and linseed oil on the cherry handle.
Update Jan 1, 2009. Since first posting this project, I've painted the metal flat black with some outdoor latex for some rust protection. and finally I had a chance to put the peavey to use! Here it is in place to move a 14" x 10ft pine log freshly cut ( and so heavy as). I managed to roll it out of the way with hardly any effort. The peavey worked better than I imagined. I was considering taking it apart to make the hook part bend back further but for this size log, this is perfect and so it's a keeper. If I need one for bigger logs, I think I'll just make another one.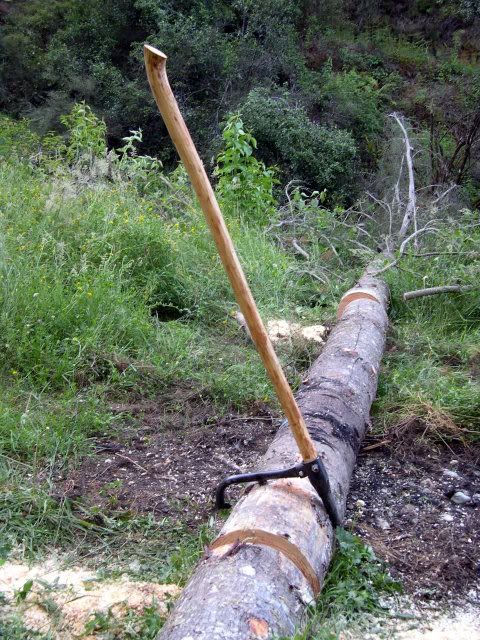 -- If you can't joint it, bead it!
---
---
---
---