---
After having bought a cheap little router edge guide a looong time ago, and maybe using it twice because it was so cheap, I decided to make myself a really useful one. As an extra bonus you can use it as a small router table. I haven't gone to the store yet to get a butterfly nut for the adjustment screw.
With so much surface area in contact with the workpiece it is very stable, even while doing mortises on the ends of boards. Flipping it upside down and clamping it to your workbench, you can use it as a small router table.
I rarely use the plunge base for my router so I will leave is more or less permantly attached to the jig.
I left the router off for clarity.
As you can see it made from only 4 pieces of wood. 3 each 3/4 thick, 2 1/8 wide, and 20" long. After gluing
them together I ran it though the jointer to square up all the faces. The 1/2 plywood started out as a 10"x 10" square.
Construction Details:
Here is an end view which shows the carriage bolt and the nut fastening it to the lower piece. It will never come loose while adjusting the top nut.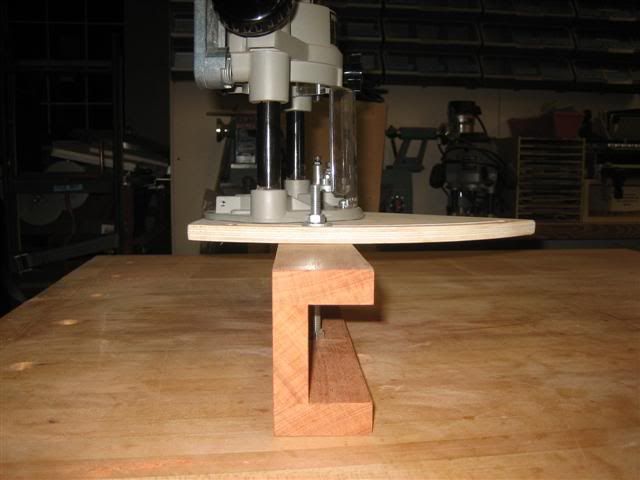 .
Here you can see the counterbore for the carriage bolt. I used a 1/4" shoulder bolt (stripper bolt for those in the UK) for the pivot point.
.


.
The following 2 pictures shows how you can use it along a straight edge. For inlays, mortises, slots, dados…
.


.
.


.
Here is it clamped to the workbench to use it as a little router table. The cut out for bit clearance was made with a forstner bit.
.


.
Since the router base is flush with the workbench you can use the workbench surface for stock support.
.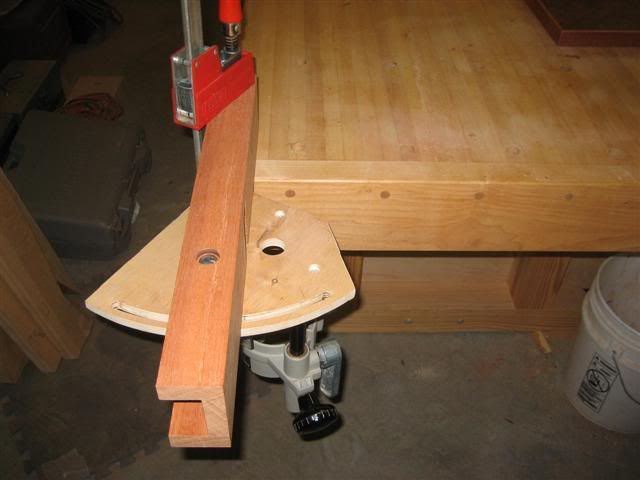 -- Gary - Never pass up the opportunity to make a mistake look like you planned it that way - Tyler, TX
---
---
---
---