---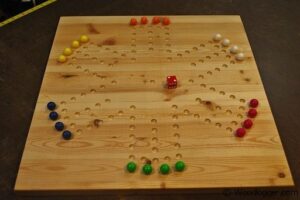 I've wanted to make a game board of some sort for a while now, but I wasn't really sure where to start.  I made a cube in a cube awhile back, it wasn't really a game, more of a puzzler but it was a lot of fun.  This time I wanted to make something that I could play with my kids around the table.  So I decided to make a marble game board.  Why..? Well, because it's fun.  I used an old marble game board as a template and then used my plunge router with a guide bushing, and 3/8" Core Box router bit.  I suppose if I had a larger drill press I could have just used that, but the plunge router worked out.
If you want to see more pics and a video of how I made this check out my blog entry over at: www.woodlogger.com


I also put up a listing of free project plans that you might find useful.
Materials
Not a lot for this one.  I actually had a scrap board that was edge glued up.  If I was making one from scratch I would have used simple pine and cut it to length and edge glue it up.
 3/4" x 6" x 6' Pine Board (cut down and edge glued to width)
Milling

For the board I used a plunge router with a 3/8" core box router bit.  I used a guide bushing attached to my router base plate.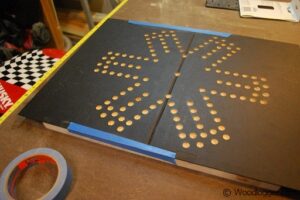 For the lumber I was able to use a scrap piece of edge glued board.  I used 3/4" thick board as that is what I had.  I think 1/2" would have been a good fit for this as well.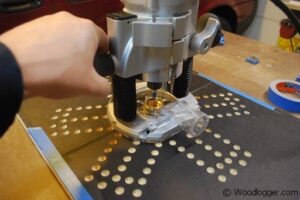 I used my plunge router with my template and make quick work of all the holes needed for my game board.  I set my depth to approx. 1/4" in-depth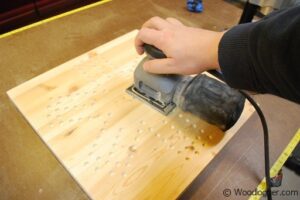 After all of my holes were completed on my board, I sanded my game board using a 100 and 150 grit sand paper.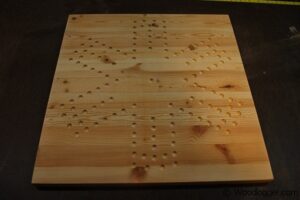 Here is the completed board.  The whole project took only about 1-2 hours to complete.
Finishing
To finish this, I sanded the board down using 100, and 150 grit paper.  Then I sprayed it with a basic lacquer.  I'll also paint this with some basic colors that match up to the marble colors.  This should give the board more character and add to the enjoyment of the game.
To see more pics and a video on this project check out my blog entry over at: www.woodlogger.com
-- Daris, Indianapolis, https://www.woodlogger.com
---
---
---
---