---
A co worker of mine was looking at my cutting boards on my DSO Designs Facebook page before Christmas, and commissioned me to make him a bread board sized for Italian bread. He left it up to me as far as the design aspects..so I did a little research on the net about Italian bread sized boards and came up with a general dimension of 19 long and 7 wide..roughly. I had an idea kicking around in my head for a while about an alternating pattern end grain board so I thought i would try it on this project..end grain is ideal for the extra abuse a serrated bread knife will put on a board. So I gathered the usual suspects..Maple, Walnut, Cherry, and Purpleheart..Glued them up in a specific order..
Then once flattened in my drum sander I sliced the blank up with my sled and turned them end grain style, flipping every other piece 180…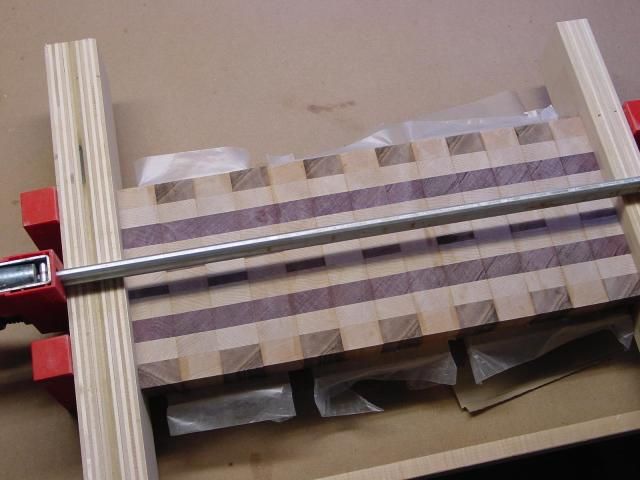 This my new end grain glue up rig..some laminated plywood cauls to keep things square and flat, and I used MDF cut into pieces and covered in wax paper to support the sections. I glued it up 4 pieces at a time so I could get the alignment as perfect as possible. I would do 4, leave it clamped up for two hours..then pop the clamps, glue on 4 more and re clamp for two more hours, etc. till I reached the end. Then I left it clamped up without disturbing it for 24 hours. The setup worked great..gave me nice even pressure, and kept everything from bending and shimmying. Once glued up I flattened it again in the drum sander and then cut some nice curves on the band saw. I also cut the outside pices down to my usual 1/2" border size..here it is all ready for polish sanding…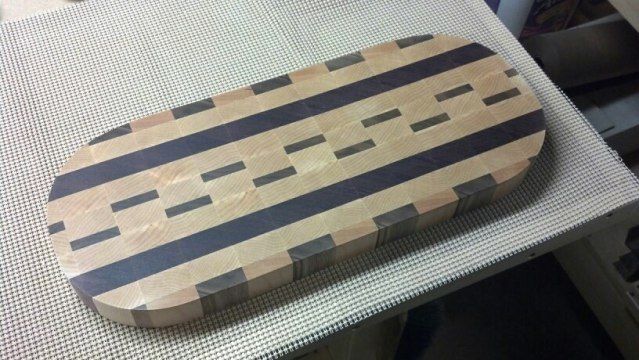 After that it was time to sand..Started with 80, then 150. Then I wet it down to raise the grain..I like to do this so that when the board is used and it gets wet..and it will..it will stay smooth and not get "furry". Then I round over all the edges, and sand to 150 again. Then 220, and finally 320 a little to remove the sanding scratches on the round overs. A vacuuming and a thorough wipe down with mineral spirits..this helps to reveal any sanding scratches or defects before you start oiling as well as removing sanding dust. Then its time for the bath..low viscosity mineral oil mixed with beeswax flakes. I warm it up slightly to help penetrate the board…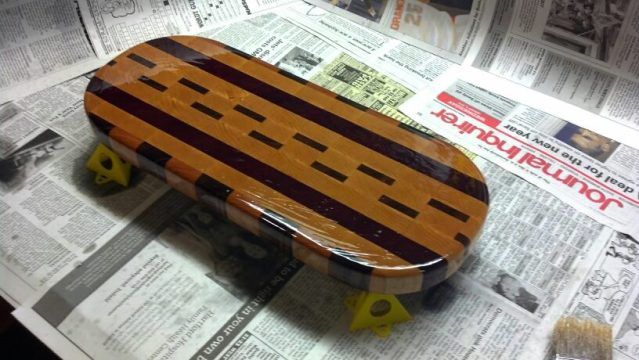 When it stops sucking the oil up quickly, I let the final coat sit till its almost all gone. then I wipe it down and polish it with paper towels. I usually let it sit for a few days while it bleeds back some of the oil..I just keep buffing it with the paper towels til lit stops..then its done!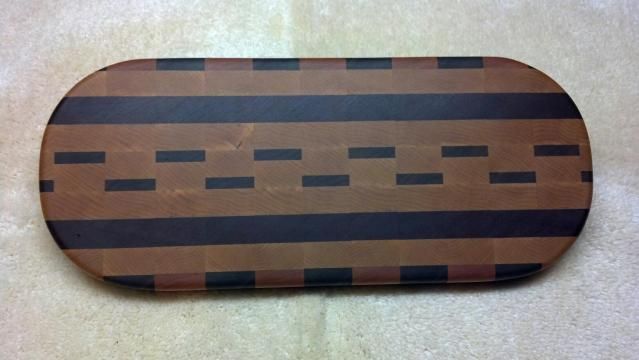 I have gotten a lot of compliments on this design and quite a few inquiry's about making more…I like how it came out, but I do have to say I don't like the way the wood gets really dark when I oil the end grain boards. I might try experimenting with a Varnish mix I saw The Wood Whisperer likes to use…Thanks for looking!
-- http://www.facebook.com/pages/DSO-Designs/297237806954248
---
---
---
---