---
This is my most ambitious project to date. It is 8' long and 46"- 42" wide depending on where on the top you measure from. It's live edge walnut, though it took three pieces to get the width I was after. I am not completely happy with the color match of the center board to the two slabs, but the customer seems happy anyway. After finishing I noticed the center board had slightly more reddish hue than the rest of the top. On the positive side the 8ft long joints came together seamlessly, I was extremely happy about that!
This picture shows one of my favorite parts of the table, a burly knot that you can see bump out on the right in the sixth picture. The lighting through the window is a little strange (you can see tree shadows in the reflection), and I am using a cell phone camera.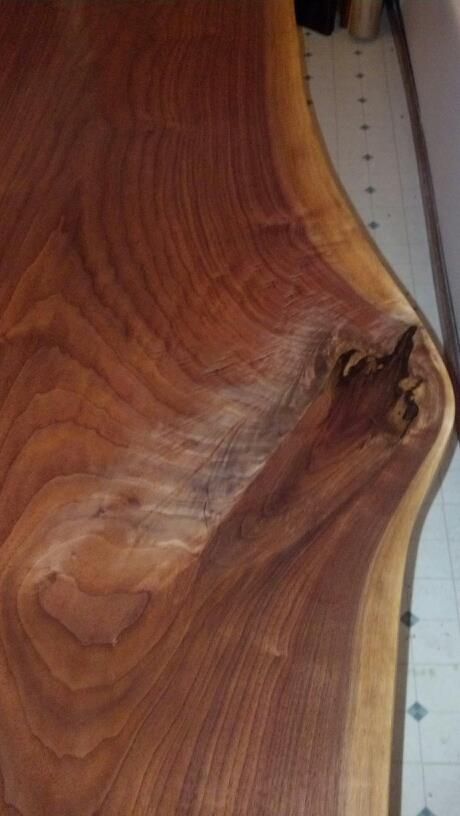 Following the picture progression, I used a router sled to get the top down to thickness and relatively flat. Then hand planes and sanding the rest of the way. That's an old stanley number 8 on the table in picture 2. That plane has some heft to it! And I have to say, investing in a festool sander was great, relatively quiet and very efficient dust extraction. As many hours as it took to sand on this project, the festool made it a pleasure.
I installed some dutchmen/bowties made from ambrosia maple. Since this was my first time putting these in, I attacked the bottom first, then the top. So the bowties are 3/4" thick installed on each side in roughly the same spot. to keep cracks from growing. I also tried to keep some grain continuity between bowties that were close together, see picture 6.
The base is made up of two leg assemblies connected by an upper and lower stretcher. The lower stretcher connects into the leg assemble with a large dovetail. The wood was chosen so that the leg assembly had sapwood where the long stretcher would connect to provide contrast in the joinery. The design concepts were borrowed from a couple of tables I saw on custommade.com.
My friends told his wife he was having this table made, but didn't give her much on detail. She couldn't understand why they just didn't go to cracker barrel and get a table. The moment that made it all worth it was when she came over to pick it up, gasped, and told her husband that now she understood why he had this built, and it was gorgeous. Nothing like customer satisfaction!
Hope you all enjoy, and I welcome any feedback, this is after all a learning process. There are a few proportional changes i would do differently for example. None the less, a fun and educational build!
Jay
-- Jay, http://www.facebook.com/porcupinedesigns
---
---
---
---