---
Ever since I saw Feb 2008 Fine Woodworking magazine with the guy doing the inlays, I got interested.
The tools are available on Lie-Nielson for $155 for two of their tools, but I decided to buy two replacement cutters for $10 each instead and make my own.
I decided to make both tools in one. I use the same head with the cutter and a different attachment depending on whether I am doing curves or straight lines along an edge. The one they sell is only about 5" long and I wanted to make something a little longer, so mine is about 18" long. At this point it seems a little long, but after using it for a while I can always cut it down.
I used two woods, cocobolo for the bar because it is hard and resists bending very well, and South American boxwood for the rest. I used that because it is very strong, tools well and is abrasion resistant. I also thought that they looked good together.
I use brass sheet to keep the adjustment screw from gouging the top of the bar, and stainless to hold the blade. I used stainless because that's what I had and again I thought it looked good. The thumb screws are brass.
For the inlay I just band saw my own strips and run them through the drum sander to get them to thickness.
Holly is the only wood for the inlay as far as I'm concerned. For you base wood you either have to use dark wood or pre-stain/dye a lighter wood to get the contrast. If you stain it afterward the inlays will be too dark defeating the purpose.
.
This is the setup for doing curves:
.


.
This is for doing straight edges:
.


.
This is my first test piece
.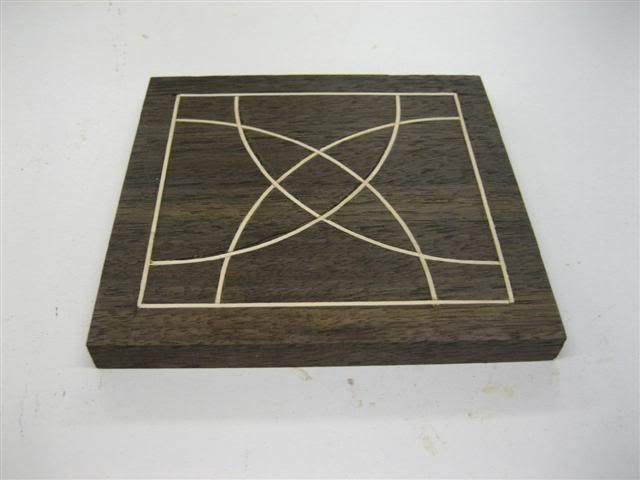 -- Gary - Never pass up the opportunity to make a mistake look like you planned it that way - Tyler, TX
---
---
---
---