---
I'm finally getting around to posting my second (fun) project since joining LJ. This is a combo cab I made for a guitar amplifier. I'm happy to have gotten through it. And I'm pretty happy with it. Especially considering all the mistakes I made.
I ruined a batch of wood right off the start. The replacement batch didn't go so smoothly either.
First, a word of advice to anyone leaning towards any project. DON"T BE HASTY. Take your time, become familiar with your tools and proceed slowly. All things I did not do on this one. LOL
I started off with a new jig. Right out of the box I went at it on the good stuff….bad move!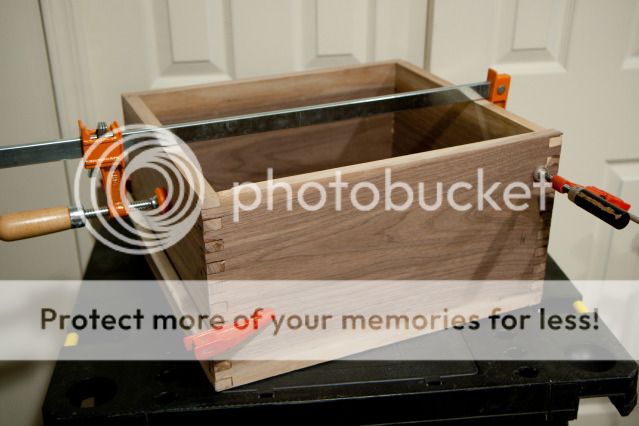 Then I went at it with my router without testing the bit height. Rookie move.
I was in recovery mode from day one and just kept compounding my issues. I made many unnecessary mistakes. All I needed to do was take my time. Don't be me.
At this point I was dejected and this caused the project to be neglected a bit. I had other home projects going on so spending more money on wood, at the time, was the last thing I needed.
Not only were trusted confidants advising I bag it and start over, but I knew I should have too. I just felt WTH I'm going to try and bang it out and see what happens.
So I went at it with a sander…
You'll see close-ups in other pics. It turned out better than I thought, but still pretty mucked up. I actually liked the inconsistency and for a minute it made me think I should try my hand at relicing. Then I wussed out. :D
So I went straight into making the front panel. I doweled (another 1st), glued and clamped 2 pieces together…
I initially wanted to make this a horizontal cab. Then yet another mistake appeared. I didn't measure it correctly! The tubes wouldn't clear the speaker. I then flipped it on it's side and went with it vertically.
I went through tons of ideas of what I wanted to make it look like. I was all over the place, but always kept coming back to an old fashioned radio type of look. I picked up some old radio grill cloth a while ago for this exact type of project. Now with the cab vertical I felt the idea work out even better.
Next I wanted to keep as much grain as possible. I didn't want to do a Tweed look. I wanted more of a TV front. So I started looking at old radios for ideas and the old Zenith Walton TV jumped right out at me. Now I had to try my hand at cutouts. No problem. I'll dive right in. I started doodling some shapes. I didn't want to do the rounded rectangle like the radio itself. Something a little different. I started looking at my son's toys for a shape to trace. Then I thought to just trace his hand and foot and connect the dots…
I went with his hand…
Made the chassis cutout…
Speaking of my little helper….
He's 15-20 feet away, not allowed in the garage and must wear goggles even when I'm using hand tools. Just in case anyone was thinking of calling child services. :D
A dry fit…
Hacked out the baffle with a jig saw simply because I was lazy and didn't feel like making a jig for my router. Same goes with the rest of the cutouts.
The moment of truth….
It fits!! Tight, but there is enough room. :applause:
Cleat time….
Painted the baffle and brackets. More on brackets in a minute.
Routing the cutouts. I tested and made sure the bit was set correctly on this one. :D
Ah the brackets….
The chassis didn't come drilled out. Not a biggie. I ended up going with brackets a couple of reasons. The main reason was to limit the amount of screw wholes. The next was to make it as rock solid as possible. Both a success. I added a t-nut to each bracket and drilled a hole through the top of the chassis on each side. It's not going anywhere.
The back panel and bottom lip…
The last dry run….
Getting ready to get wet….
I was unsure about the finish. I did some tests with shellac. I tried both clear and amber. I loved what the amber did to the darker wood. Not what it did to the lighter streaks. They were too orange and really stuck out IMO. The clear didn't add enough warmth for my tastes. Plus I didn't really like the plastic/rubbery feel it left after 5 coats.
I bought teak oil back when I first started gathering materials and figured it was time to test that one out. LOVED it. That's what I went with.
Last thing to do was fasten the grill cloth and we're ready to get to the final assembly. I used 3m spray adhesive.
More on the amp….
The Stowaway. A name I came up with because this will be my living room, behind the couch amp.
It's a 3 watt 6V6 Fender(y) voiced amp. Controls are Bright, Volume, Treble, Bass, Mid, Tone Stack Bypass, Master. When I talked to Randy about it I asked for a Blackface/Tweed amp. Randy mentioned that it will do BF and get me in the Tweed realm, but not exactly. Good enough for me, since I didn't want to increase the wattage. Plus a pedal is no problem. :thumb: I only got a few minutes with it. Can't wait to see how far it does go.
The final assembly….
And last but not least. Depending on your opinion on the design this could be my final mistake :D…
The second I put the panel up I realized I missed the top that lies against the face. D'oh!! It needs sanding and oil. I oiled it without sanding. Not good enough. I'll have to sand a little. I'm in no rush now that I got to plug it in, but I will eventually straighten it out.
And here she is….
Throughout the entire process all I saw in regards to the cutouts was a gas mask. Last night while compiling the pics who do I see……..Mickey Mouse!! LOL. It's fitting on so many levels.
Last but not least the final touch…..
I decided to wait and post a thread after things were all said and done. And that decision proved wise. This would have been torture to those who may have followed.
I apologize if the woodworking here makes you ill. I know there are very skilled craftsman here. Some of the finger joints are cringe worthy.
All in all I am very happy with the cab. I would change a lot doing it over again. I'm have embraced the fact that it's far from perfect a LONG time ago. It turned better than I pictured.
Hopefully this project can be a little inspiring to some. I had a blast.
On to the next project. Possibly a workbench. I'll be sure to share that one as well.
Thanks everyone!
---
---
---
---