---
A few weeks back I had asked the question if anyone had any experience in Goldl eaf guiding. My wife had purchased an old mirror from one of the antique shops in town (no, it wasn't an antique) We liked the look of the old mirror, it had a lot of charictor, but the frame was very beaten up and not very stable. After I had set up my new equipment, she asked the first project be a new frame for the mirror. Now bear in mind that I have never built any sort of picture frame much less one that would have to hold a heavy mirror. I agreed.
When I took the old frame apart, I was suprised to find out that it was actualy in two parts. It had the beat up outer frame and an smaller inner frame. I wanted to keep the inner frame and was strongly considering guilding it with the gold leaf. I even went so far as to have my wife pick up a kit.
I decided that in order to bear the weight of the mirror I would have to use some 8/4 stock I had on hand and I looked through my stack of Cherry to find some that matched in tone. I came up lucky and found some good matches.
I cut the main body from the 8/4 and beveled and routed the edges to profile. I couldn't get the exact profile I was looking for so I went pretty simple and ended up cleaning up a lot of it by hand with planes and scrapers.
After staining the frame, it was a Minwax special (what I hand on hand from a few earlier projects) It was a good base of Cherry stain, then a light rub down with Red Mahogany to give it a little more of an aged look to match the rest of the Dinning room furniture. I came pretty darn close on the color. The one step I wish I had not skipped is sealing the wood before staining. There is some minor blotching.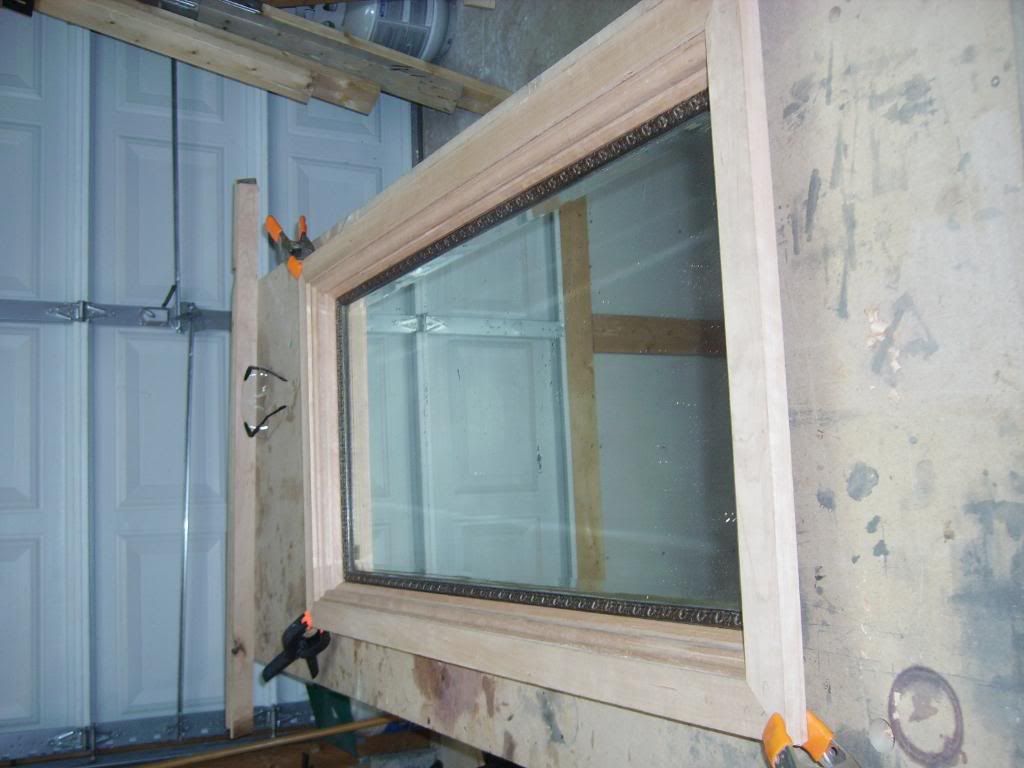 After getting the stain sealed off with some wipe on poly, I went ahead and installed the mirror. I was having reservations on the gold leaf. I thought it may be too bright for the frame and not look as balanced in the room.
I completed attaching the hanger chain this afternoon. I started off using a plastic coated braided wire but it seemed a too light for the weight, I would estimate mirror and frame comes in at over 40lbs, so I went back to the original frame and removed the chain that it hung on before. Over all, it turned out pretty well. The wife is happy, and that is the important thing.
-- Greg - Charles Town, WV
---
---
---
---