---
This project was an attempt to let a wildly figured material blend with a couple of subtle geometric accents, bringing just a bit of order to a grain and spalting that was just wild. The design is simple, and is mortise and loose tenon joinery. Legs are tapered. The front is a natural edge. Its purpose is as a workspace for my wife. She didn't even want drawers, which is why it's titled both a desk and table.
The boards started out rough sawn, spalted sycamore, and had a twist. During this project, I also got interested in wooden hand planes, and put together a Hock kit. I ended up using that for most of the flattening and smoothing. THAT was fun – hard work, but fun. I tried first to flatten on side on a jointer, but felt I was going to lose too much thickness. I also tried ripping one board, flattening and re-gluing, but didn't like the result. This sycamore grain and spalting, while in one sense hid glue lines, the broken spalting lines also showed them. Perhaps only to me, but I decided to go with full width boards and flatten by hand.
Once glued up, I cleaned up with a scraper.

Next came layout for mortises, aprons and sizing the table top.

Because the front of the table would have a natural edge, I used a 72" ruler to layout an approximate straight line across the front, which would then be used to set depth of the table top.

On the aprons, I had one that was to receive a bow-tie inlay of ebony. No templates exist that make the 2 points meet truly at the point, so I did the layout, routed out with 1/8" (for bulk removal) and 1/16" bits (for the corners) and then cleaned up with a chisel, knife and small file.
The inlay would be a medallion type – ebony frame around a curly maple field, with the bow-tie in the center. Then medallion was then placed in an apron that was actually a book-matched board. I resawed the board, and flipped end-to-end so that the spalting lines met in the center on either side of the medallion. The two boards are half-lapped back together to create the substrate for the inlay. It's subtle, but a detail that I wanted to off-set the geometric inlay.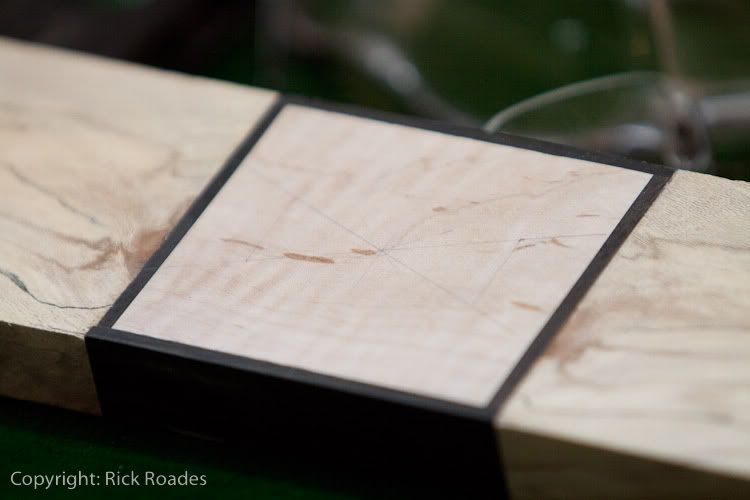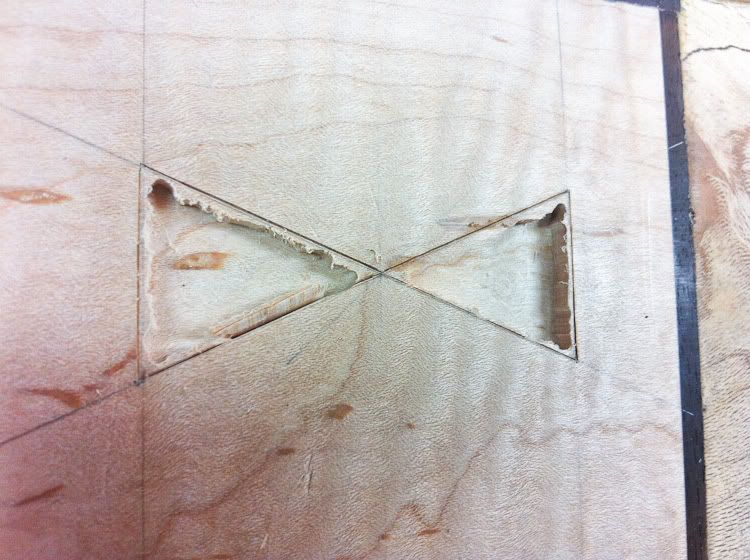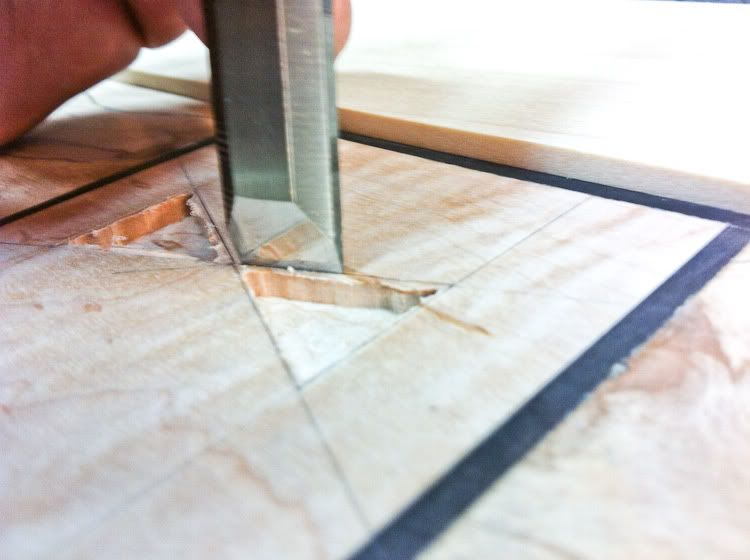 I also was inlaying a dovetail key in the back corners of the table top.

Finally, the inlay bow-tie was in

Cleaned up and assembled, I sprayed 3 coats of General Finishes High Performance. After several samples, it proved to be the one that left the wood the closest to its natural color. My wife wanted to keep it as blonde as possible, and not lose any of the various blues, greens and pinks that streaked the wood.
-- There are many tempting parking places on the road to success
---
---
---
---