---
If your kith and kin, the younger portion thereof, hath groweth up and fain would be tired of simple blockes,
or
If you as a builder and real lover of simple forms and devious play never really grew up and tired of them at all!!
Then have I, (and Gigamic), got a game for you.
This is Skybridge, which has you and your opponents adding apartment blocks to the righteous city, right to the Blade Runner end.
Each player receives 4 tall apartment blocks, four small ones, 2 roofs and two bridges (or double this for a two player game).
Build the city by alternately placing blocks at the lowest possible level but not on your own colour. Each block scores points to a finished tower that you have captured with your roof, with connecting bridges extending your domain. But be careful, for the building you so carefully construct may be taken over by your sleazy landlord opponent at any time! And you to them too, so there! Kids get this one real quick. Adults will be challenged.
Game pieces are teak, walnut, mahogany and some sort of red tropical wood, all hollowed out as it became enormously heavy. Even so it weighs in at 16 lbs. If you build it, it could be scaled down somewhat and not lose much, or use pine and paint/stain the pieces.
The storage box / platform is maple veneer with mahogany trim. The tower board is white oak with mahogany elements and leather lined pockets to locate the first row.
Compared to the original, there are also 640 hand drawn windows, and I really, really don't know why I do these things.
15" x 15" x 4 1/4" (box)
3" & 2" & 1" (blocks)
Minwax Tung Oil
About 32 hrs.
Build on LJ's.
gene
A great instructional review
http://www.boardgamegeek.com/thread/478161/skybridge-a-detailed-review
http://boardgamegeek.com/thread/305749/rule-clarifications-scoring-and-bridges
The original game

Rules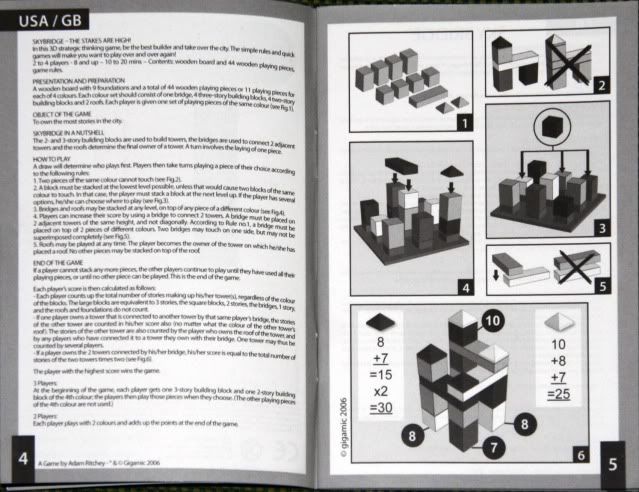 -- [email protected] : dovetail free since '53, critiques always welcome.
---
---
---
---