---
Hello all, with the recent discussions on curved legs and floating tops, I thought I'd share some pics of a piece I did I while back. This table was built for a woodworking competition a couple of years ago, and I just haven't been able to bring myself to part with it since then….either that or I just havent been offered enough $$ :)
It's built in my signature style, and made of "Wet Wood", Virgin Old-growth timber that was logged about 165 years ago during the first cutting up here. The log became saturated and sank to the bottom of Georgian Bay while being floated to the mill. This particular log is Flame Birch, and was recovered from 130 feet of water. The red lumber is the heartwood from deep inside the tree, while the green board is part of the outer portion of the log that was buried in the mineral rich sediment on the bottom. That green colour is not a stain or dye of any kind, it is 100% natural….a result of minerals depositing themselves in the wood.
Heres a close-up of the legs/splined tennons. The legs start at 1 1/2" X 2 1/4", and taper down to 7/8" square at the tips. (Excuse the dust!)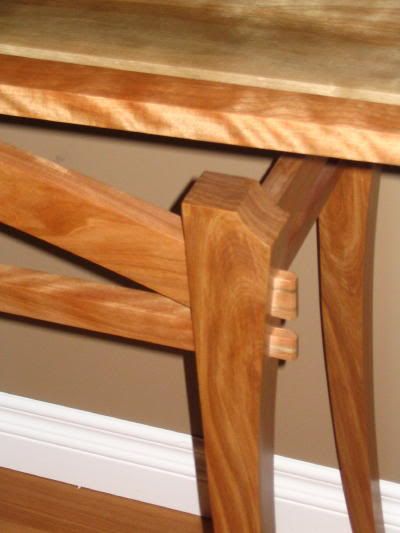 BTW, The sculpture is also made of old growth birch, and is sitting on a base of white oak that is actually a chunk fom the end of one of the recovered logs
And on the same topic, this is a bench that I made of the "not so showy part" of the same log for Canadian Woodworking Magazine.
Thanks for looking!
Ryan Shervill
-- Want to see me completely transform a house? Look here: http://forum.canadianwoodworking.com/showthread.php?41055
---
---
---
---