---
We had this little bitty coat rack for a few years now, and it was getting harder and harder to fit everything on it – especially in the winter…
I got a free piece of pine from Home Depot, in the discount bin. It did not have a label on it, so they let me walk with it. Here it is, cut to size…
After cutting it to size, I drilled holes and applied two coats of polyurethane. Two days later (tonight) I installed it on the wall, in the same spot where the smaller rack used to be. I bought the hooks at Home Depot, along with the poly.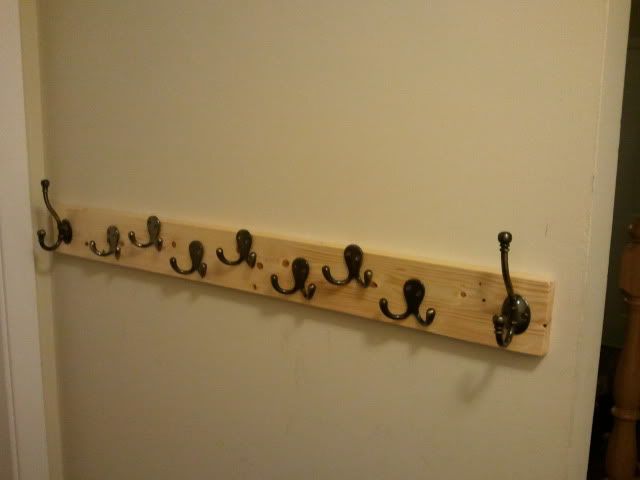 Decided not to get rid of the small rack, and installed it underneath, for hooking up backpacks and purses. In the end, it looks like this…
The entire project cost me around $35, because the hooks were not cheap. I know that you can almost buy a ready-made coat rack for around the same price, even though it won't have so many hooks. The one we had before cost about $14.
Anyways, the whole point is that I am learning to work with wood. It is very exciting.
Now, on the Project #3.
Thanks for looking :O)
-- http://www.florentintise.com/
---
---
---
---