---
Finally, I have my my new router table done enough that I felt comfortable adding photos of it. I was unhappy with the last router table I built so I have redesigned it. I kept some things the same, the big difference is the the size. The new router is wider, taller, and deeper than my last one. I have also added a commercial top. I made the last top from laminating two pieces of 3/4" Mdf and banded it with 1" thick oak. I had it supported very well, or so I thought, but it still sagged. The new router table has much more support under the top, especially around the router lift. I spent a lot more time setting up the dust collection for the cabinet and the fence. The old table only had a fence collector. The biggest thing that I like is the added drawer space, the old one had full highth drawers, the new one has shallow drawers, that allow wider bits, like panel raising bits, to hang over the edge. Even though the drawers are not much larger, this give me a lot more room. Anyhow, I hope you guys like it.
The front of the cabinet is White Oak Burl with a black costello inlay and rift white oak boarders. All done in the vacum press.


front of the cabinet


side of the cabinet. The other side is a mirrow image, if I want to move the shop around I can power a dedicated shop vac from either side and yes, both outlets are controlled by the main power switch so that the shop vac turn on and off with the router.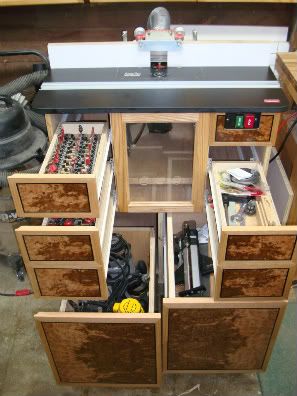 front with drawers extended


side with drawers open.
Thanks for looking, and thanks for all the ideas that I got from everyone.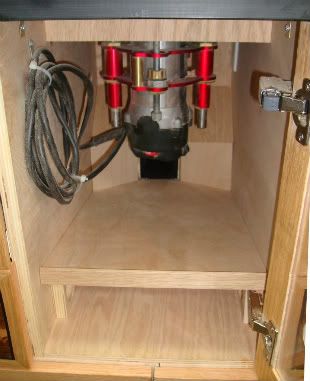 Inside the cabinet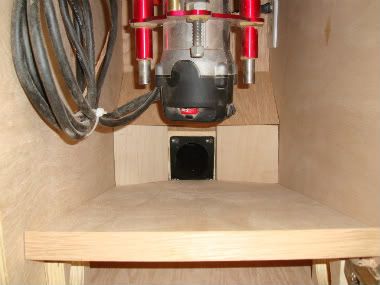 a closet look at the inside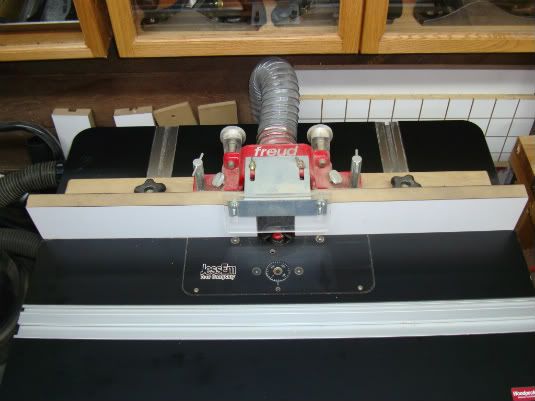 Here is the new top, a woodpeker solid phenolic top. Found it on e-bay for I price I could not walk away from, it is exactly what I wanted.
---
---
---
---