---
What better way to start the new year than with a new game. This is "Batik", a mostly wood game given to my daughter at Christmas.
It is a purely spatial, visual kind of game, simple and fast, good for down to very young children as they've learned shapes and relationships. A nifty game for grown ups too while having a few cold ones, or just to see if the under 10 set can't plough you under. While this model is fairly large, you could scale it down to 8 inches or so and not lose much.
Each player gets 13 pieces as shown. I followed the original design of 10 but threw in three extra pieces simply because I had the wood planed and because I think it makes the game more interesting. The players drop them in alternately with the loser of the game having their last piece played protruding above the Plexiglas. No place to go in just a very few minutes. There is an early bouncing large pieces game, a middle game of scheming and embarrassment and an end game of measuring up against the glass and simply hoping it'll fit.
(Games may also be played in a series with the loser forfeiting the last piece played before the next game, with the ultimate loser being the player who cannot play as they have no pieces left)
(Visually calculating type people caught sleeping on the first game can often come back and win!)
In keeping with my practice of always providing storage for playing pieces, there is a box too. That and I love making boxes, usually ones that have an immediate task.
It is done in qtr sawn and flat sawn Douglas fir, that very pleasing yet very annoying wood with it's abrupt early wood late wood transitions. Sand it, chisel it, rout it, saw it, curse it. Black leather lines the bottom.
The Plexiglas windows are loose for cleaning or replacement and also because I have as yet to come up with an inventive and attractive way of securing them.
I wrapped the box lid for a one corner match and the box itself for a four corner flow though in truth, it is physically impossible. What we have always is a four corner mirror match, not a waterfall. This is evident in the front left picture (below) but still pleasing I think. I hope that's what we aim for in our work, pleasing, and not getting paralyzed by perfection. But I'll take perfection if I can pick its pocket.
Game: Walnut, white oak, "red ebony?".
Box: Douglas fir.
Game : Sanding sealer by Leon. Goddard's wax.
Box: Shellac. Goddard's wax.
Box: 9 1/4"x 5 3/4"x 2 1/2" About 7 hrs.
Game: 13 3/4"x 10 3/4"x 4" About 9 hrs.
Build on LJ's.
gene
Some details: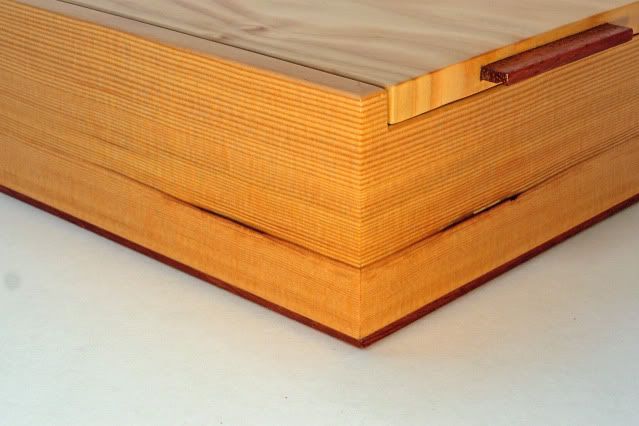 A review:
http://boardgamegeek.com/thread/570487/corners-of-pieces-pieces-for-me
-- [email protected] : dovetail free since '53, critiques always welcome.
---
---
---
---