---
New Custom Net – The Unveiling…
Well, I just finished this client's custom highly figured Claro Walnut fly fishing net. He's a very active fly fisherman, actually helped me pick out the wood to be used on this net (mark's quite the accomplished Green & Greene woodworker). He selected a highly figured Claro Walnut piece for the handle, and Mahogany sandwiched between two pieces of Wenge to form the hoop. This flitch of claro is instrument grade wood. It was amazing to watch it transform from a seemingly rough and wavy slice of tree, to this.
If you'd like to view some of my other custom fly fishing nets, I have other nets posted here on LJ
Many more custom fishing nets can be seen here on my website.
If you would like to buy a net that is already made, or order a custom net, please don't hesitate to contact me.
I'll walk you through the process of building this custom fly fishing net:
Here are the beginning slabs of tree that were chosen for the handle. It's highly figured curly Claro Walnut. It is NOT VERY FLAT at this point. Note that I cut out an oversized handle blank.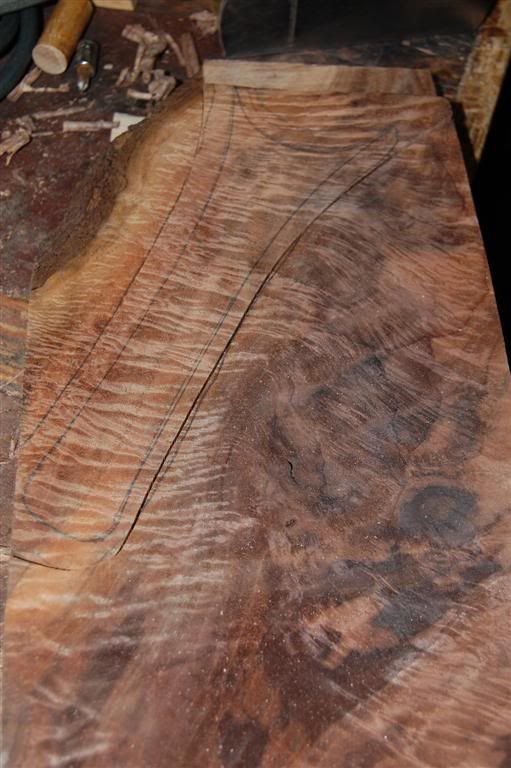 Note that there are two book-matched pieces that must be glued together to form the handle. This actually makes the handle even stronger than a single piece. This is why I needed to cut the handle oversized. When you clamp the 2 pieces, they inevitably slide around a bit.




The two pieces now need to be run through a drum sander to flatten them out for glue-up.
These are the oversized handle pieces being glued up




Here is the glued up rough handle blank.




I use acrylic handle templates so I can position the template over the most beautiful parts of the grain.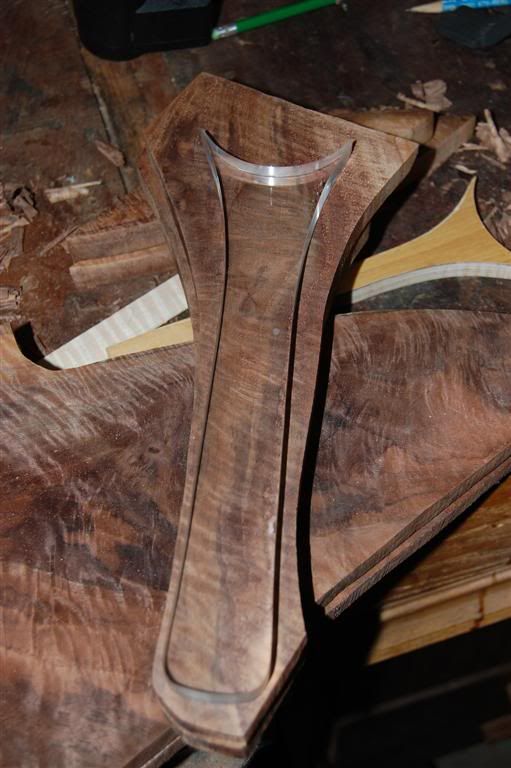 The handle just after roughing it out on the band saw.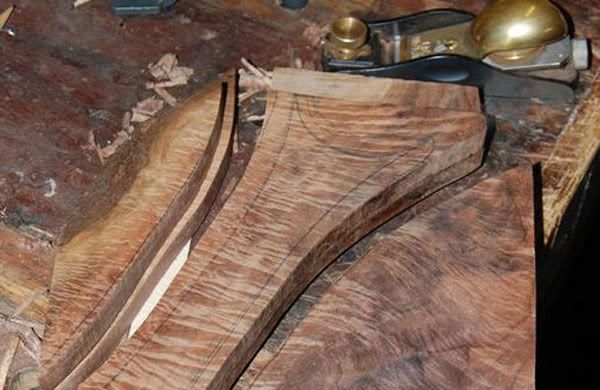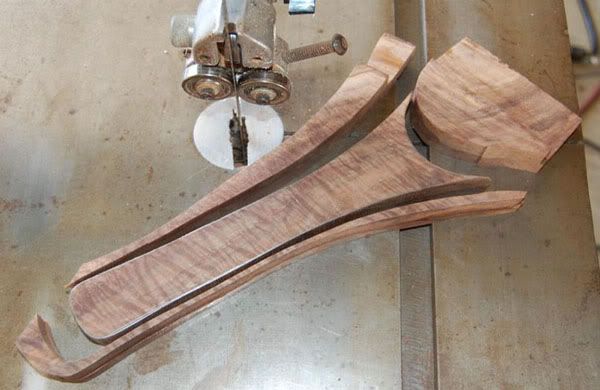 Using an oscillating spindle sander to shape the handle and prepare it for glue-up.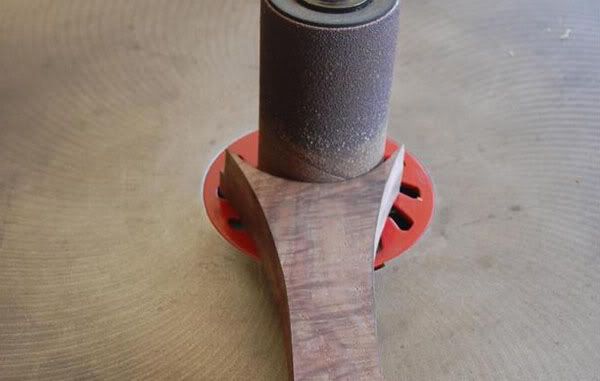 Here, I begin the glue up on a platen that is later removed.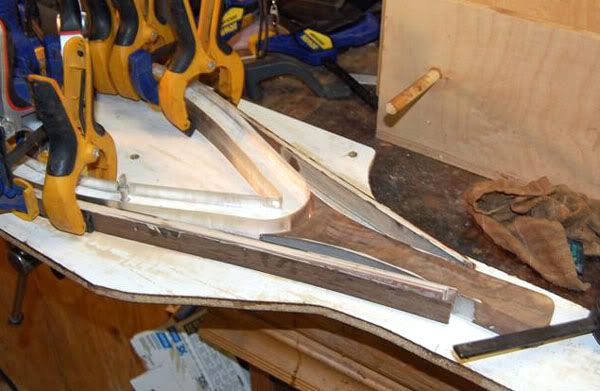 Near the end of the glue up phase.




Here, after removing the platen, adjustments are made to the clamps and handle so there are no air pockets in the laminations, and the net is hung out to dry for at least 24 hours.




Filing down the center contour of the handle.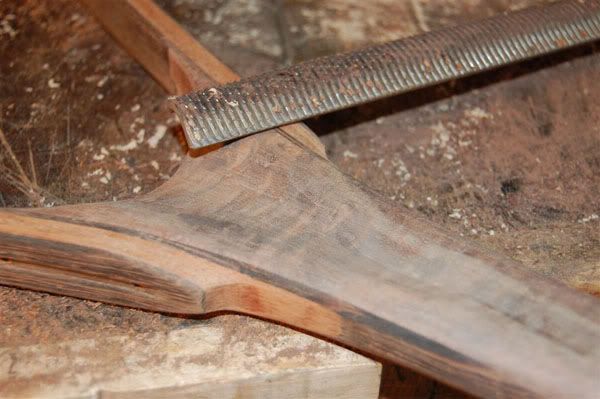 Here, I use a Japanese rasp to contour the handle. This part is all done by feel. I scrape, file, carve, and sand the handle until it "fits the hand right", taking into account the hand size of the person receiving the net. If the husband is buying for the wife, the handle will typically be sized a bit smaller in diameter to ergonomically fit her hand.




Sanding is the most tedious part as I cannot have any scratch marks for the finish I am applying. I sand from 80 grit to 100 grit, to 150 grit, to 180 grit, to 220 grit to 320 grit, to 400. Here, I'm sanding with 400 grit sandpaper: That is so fine, it feels about as smooth as your skin and it barely removes any material.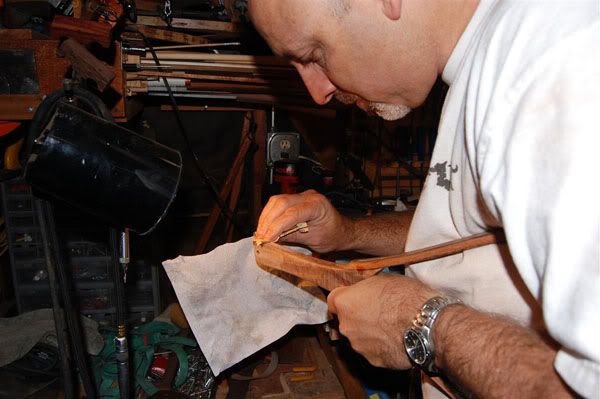 First coat of recipe 1 of 3 of my proprietary oil mixture. Each coat get at least 3-4 applications and is wiped off almost immediately. The last 2 recipes contain some spar varnish & Carnuba Wax for extra water repelling properties, perfect for fly fishing's requirements.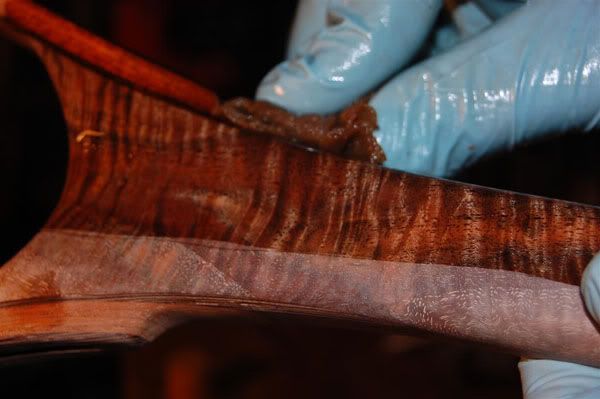 I carved a Royal Wulff fly into the handle using both a high speed .0157" router bit(Correct, that is 15 THOUSANDTHS!), and an Exacto knife.




Same goes for Marks name which was also inlaid in Aluminum in to the hoops inner face.




A finished close up of the Aluminum Fly inlay. No net yet. AND the sharp-eyed tyers may have noticed I forgot the tail! DOH! I added it later.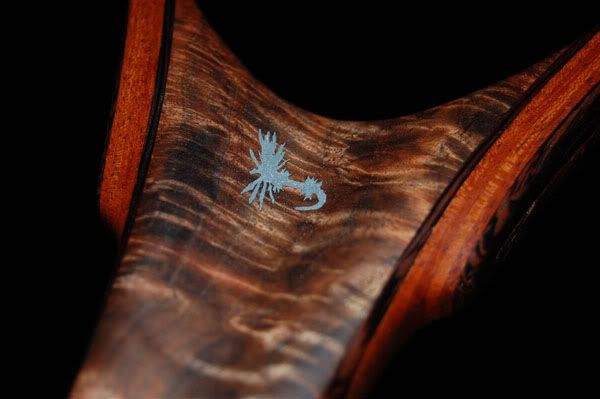 Finished w/o net.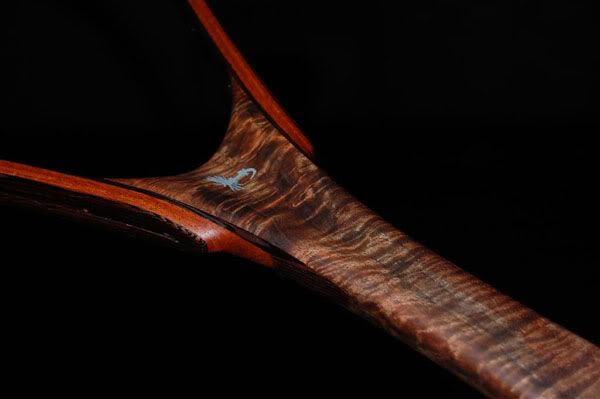 Nice views of the finished handles.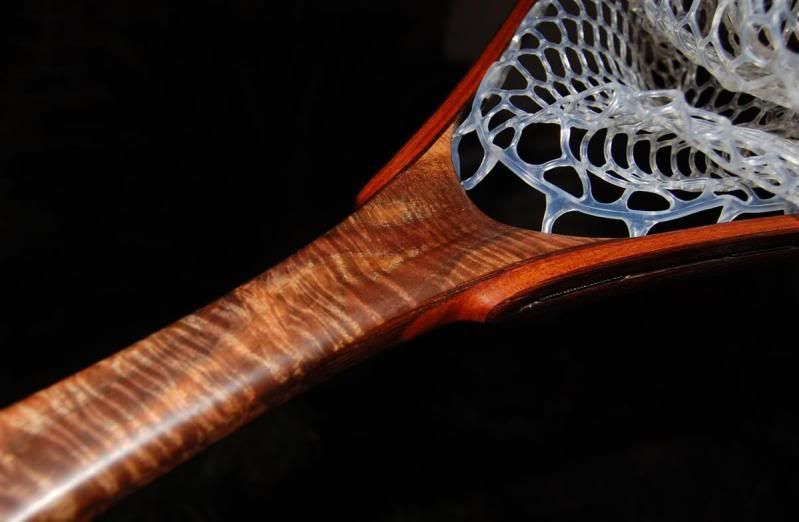 This knot is hand-tied using two colors of Made-in-the-USA, military-grade, 550lb. paracord. It forms a lanyard to loop around the wrist.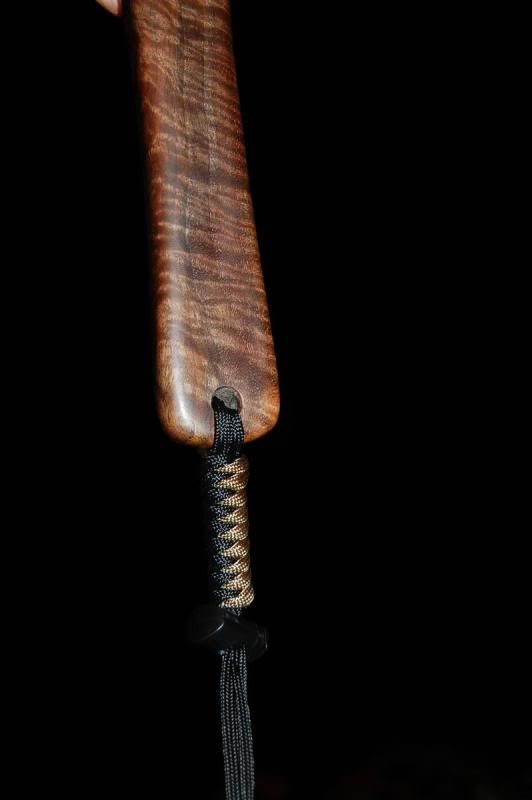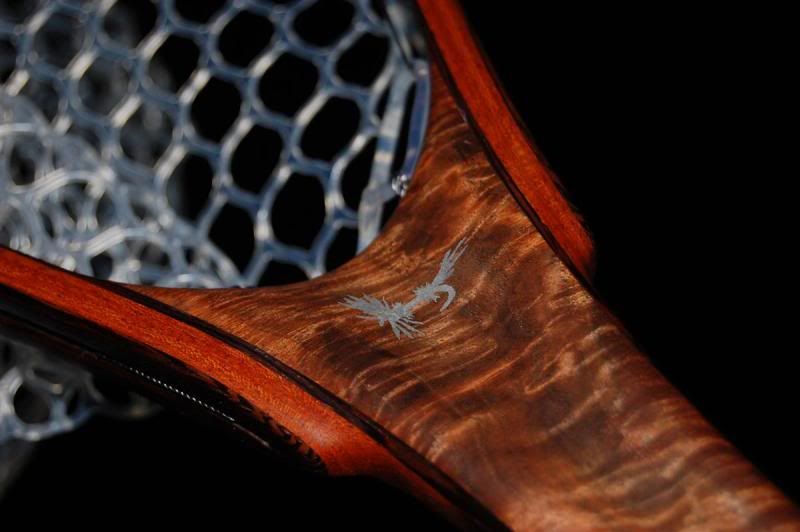 Close up of the finished inlay of a Royal Wulff.
This net, as all of my nets do, floats on water. I know my client will put this net through the ringer and will find many a trout to fill it with! For more on how I build my nets, please check out the Our Methods page on Sierra-Nets.com.
-- You don't have a custom made heirloom fly fishing Net? http://www.Sierra-Nets.com
---
---
---
---