---
My stepdaughter and her family just moved into a really stately old home in town, and one wall of the fore-room just begged for a massive bookcase. With nearly nine-foot ceilings, my imagination got the better of me, and so the drawings came together in the form of a 3-section, break-front bookcase in MDF with birch trim.

As you can see, I knew this unit would be well-used! It stands over seven feet tall, with a potential horizontal net surface of 58 linear feet….And it's not enough for these two bookworms!
With my lack of foresight, the three components each had to lie horizontal in my shop during construction, yeah, my ceilings are under seven feet tall.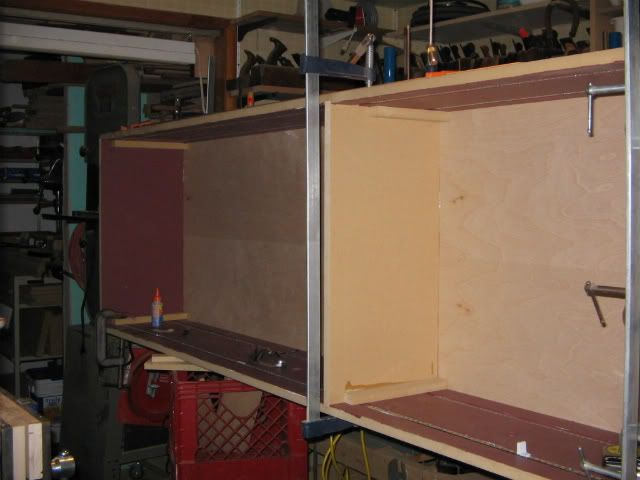 The shelves are 3/4" MDF with solid wood edges, and I expect that they will not sag any time soon! The two end units are 12 inches deep, and the center section is 14"
It was my intent for this to blend into its surroundings, rather than be a standalone showpiece. This was a housewarming gift that was relatively easy to create, and I'm sure will be well used by the family. Thanks for looking!
-- Einstein: "The intuitive mind is a sacred gift, and the rational mind is a faithful servant. We have created a society that honors the servant and has forgotten the gift." I'm Poopiekat!!
---
---
---
---