---
This may bring a smile from the experienced boat builders here, for this my quite beginners work, but this post is more for the LJ's that might think of building a little runabout with their son or daughter someday. A long term winter project that comfortably ends in summer bliss. And just $50 buck's for the fully detailed and customizable pattern!
These are fun little boats. Powered by a 9.9 hp motor, it'll top 25mph with a real shallow draft and a real low trail your hand in the water kinda thing for fun. (Please excuse me if I screw up any nautical terms).
How this happened is that an award winning Canadian architect that we do a great deal of work for, built the hull out of marine plywood and laminated ribs in his garage with his 11 year old son (pictured) over last winter. It then came into our shop where I helped him out.
Working with mahogany and eastern white pine we thin planked it out with brass screws and plugs for the most part, adding custom stainless trim everywhere and finding out too, just what it's like to work without a right angle in sight. This was a difficult job for me, partly because I had no experience with boats and party because the hull as given was flawed. If things aren't symmetrical, if the curves aren't fair, if the balance is off then the work is harder and the result less pleasing.
The combing at the front and rear was especially difficult, for 4 separate corner patterns, templates and molds had to be made to create a perfectly matching laminated curve in each case, with only one shot at the miter angles. I spent some hours at this.
(As an interesting side note, all the mahogany used on this trim was reclaimed from a bed my boss made when he was very young).
So the moral is easy here, build your foundation true.
In spite of my complaining, it was a real pleasant exercise in problem solving with a new appreciation of the craft practiced by those that excel in this discipline.
gene
A few links of other builds and the plans. Some real beauties.
https://www.boatdesigns.com/products.asp?dept=360
http://www.jeffshomemadeboat.zoomshare.com/
http://tedsbuild.blogspot.com/2011/07/squirt-is-born.html
http://www.glen-l.com/picboards/picarchv.html#squirt2
Action shots:
Landing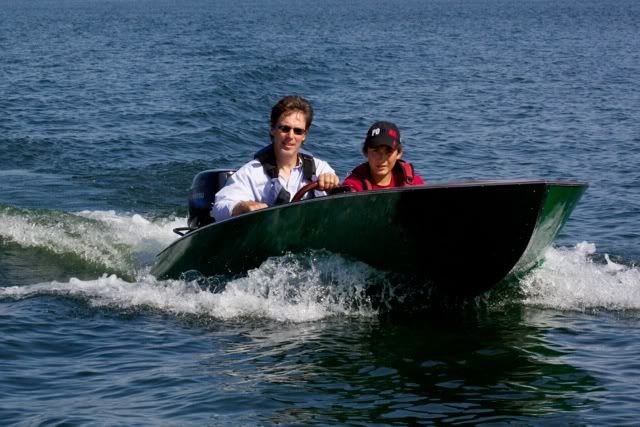 Cutting a curve

-- [email protected] : dovetail free since '53, critiques always welcome.
---
---
---
---