---
Here is a Jig I made to cut some thin strips using my table saw. Danged if just after I ordered the bearings from online if Rockler came out with one on sale! Well, it feels better using a jig you made, not some factory!
The first pic shows the jig on my table saw being measured for the cut. The second shows a test strip being cut. And picture 3 shows that the strip got cut to 1/8"! SUCCESS! Now when I need to cut my 1/16" accent trip I can do it safely.
Here are the parts laid out:
The base is made of 3/4" ply, 3×5. The top is 3×7 ply before it was shaped. (Hint: Cut dadoes in the ply to accept the 1/4" x 1/2" hardwood runner before cutting them to size! I also sanded the top runners, then applied a paste wax.)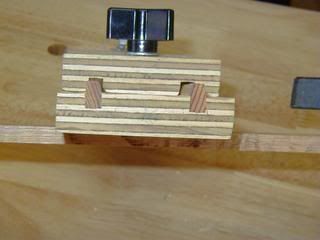 The bearing I ordered was way to big for the inside diameter, too, so I had to use different spacers and a 3/8" bolt. It works fine, but has close clearance on bottom of jig.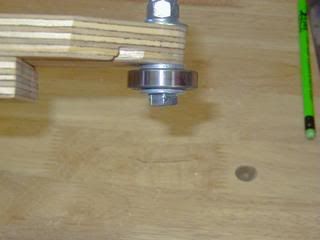 Use is siomple. Just measure the doistance between blade and bearing,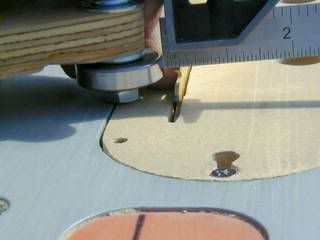 then slide jig back to behind the blade and run wood through, as in picture 2 above.
One note though… Make sure you install a splitter and ZCI FIRST! This wil help prevent any nasty kickback! I used a MJ Splitter, but a piece of wood the width of your kerf positioned directly behind your blade will work, too.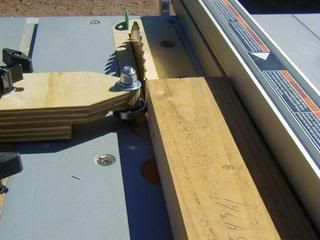 You can see in picture 3, above, that it worked fine on my test strip. I hope this helps you build one for yourself!
God Bless,
Hawg
-- Saving barnwood from the scrapyards
---
---
---
---