---
As the title eludes, I've found that sometimes simple is best. After looking at many elaborate manufactured and shop-built jigs, I found that many were a bit too involved. For the most part the goal is to hold stock perp. to the blade in which it is being fed into. It also must be able to cut an equal portion on each side of the tongue with ease.
This jig has a tall 90 degree support and rides the fence. The toggle clamp is nice as it is fast and always there. A clamp would accomplish the same thing, but it's one more thing to grab. The vertical brace is 3/4". It can be replaced when tear out starts occuring. The toggle clamp is calibrated to hold 3/4" stock. Instead of grabbing a wrench to adjust the toggle for thinner stock, I normally grab a thin scrap as it's faster.
Toggle: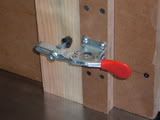 Using Toggle w/ Spacer: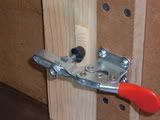 On the rear, the supports are not glued, only screwed. I can tweak the supports to maintain 90 degrees if needed in the future. I made about a half dozen of the handles many months ago and they have been coming in handy for various jigs and temporary push blocks. One feature that I've found extremely useful is keeping the three bits in thier spots. I use these three bits (common tenon sizes in my experience) to quickly set up the cut width.
Setup Example:


(About time to clean the blade, huh?)
-- Jeff, South Carolina
---
---
---
---