---
G'day LJ's and any body else hankerin to learn a bit, the Grocery Corral's done and gone but I got me a bran new project that will set some a you straight even as I throws you a curve! Here goes.
I was workin away on the big 32" bandsaw t'other day, roughin out parts for a bunch of round tables, gettin em ready for the shaper, when it suddenly hit me upside the head that I've been in the bidness for years an years but somehow, someway, I never got up to makin a bandsaw box. Sure I read a little bit about them in the colored pitcher magazines, and even found out more lately when I heard some dope from a fella that stopped by the shop one day, all on his way to Californee he was. He said that yeah, they were real real swell and told me other things too. Like they had a sander there that does things randomly and I said I like mine to go where I tell it, and he said he heard of a table saw out there that stops when it sees hot dogs and I said I've heard it all now. Well golly, after he set out from these parts I just knew I had to make one.
So to do it I figured I'd use some of that real purdy, real fine grained cedar I'd been saving up for to make a jewelry box for the wife for our 25th anniversary. It's seems a little sad I guess, but she can wait another year eh? – what's the difference really? Wait now! it'll be 26 years then! even better for her! Good, good, good, cause I just gotta build me one.
Knowin I knew nothing bout it I turned to look at all the lumberjock projects for maybe sortin out my thinking on how best to work it. You guys will show me done right. Well, there were tons of bandsaw boxes to look at here but I ended up real kinda confused, cause everything was all space age lookin, like it was designed by those Hitachi folks or that Spielberg guy. Where was the blade? Where was the work table or stand? Cant see a switch no where! On top of that, most of them you couldn't even figure out where the wood went thru, and none of em looked like you could cut cheese much les harder maple! The very closest one to regular was "Pine Glue-Up Flower Style Bandsaw Box" by FloridaArt and even then I couldn't see how it worked. Ok I said, I'm gonna figure this out by my lonesome.
Now I didn't think I should use the 32 as my guide, me bein a newbee and all, so I thought maybe the 14" Delta we had would be a better bet. Everybody knows that one. So I glued up some pieces, jointed, planed and worked up the chop saw. All ready. But then things got bad real fast. When I went to start to do my cutting I found that some idjit in the shop had broken the very last blade on the Delta. And seein that it was only fitting for that saw to do the work I was some lost. What was I to do? I was frettin bad.
Then I got it. I pulled my little 9 inch Ryobi machine out from under the bench and told her to keep quiet, feelings might get hurt. She hummed and agreed and we got along. I'm really kinda glad she ended up doin the work cause the blade on her is thinner than a Amish phone book, just perfect for them finer cuts bein only about 15 thou so says my micro meter.
So the cuttin itself didnt give me too much trouble but boy oh boy I sure got tired of hand sandin real quick. A body shouldn't have to fuss so much. Then I gave it to my good buddy Leon to spray all over since my fingers hurt too much to do any rubbibng and such. A bustin out proud job he did.
In the end it all turned out pretty well I think, a bit rough maybe an the colours are wonky an I messed up some other stuff but don be too hard on me this is my first effort ok? I might tackle the Powermatic 18" next or maybe the Laguna or Grizzly – who knows? The things I could do!! After the 26th of course.
Hope I did good & thanks for looking. Oh yeah, if any body wants to copy it then see my best cousin Miss Vicki over ter the feed store first, shes a parachute legal or somethin. She'll be able t'help you with your forms and all.
5"x 3 1/4"x 14 1/8" 1/5th scale
About 17 hrs.
Build on LJ's.
gene
the cabinet base

the players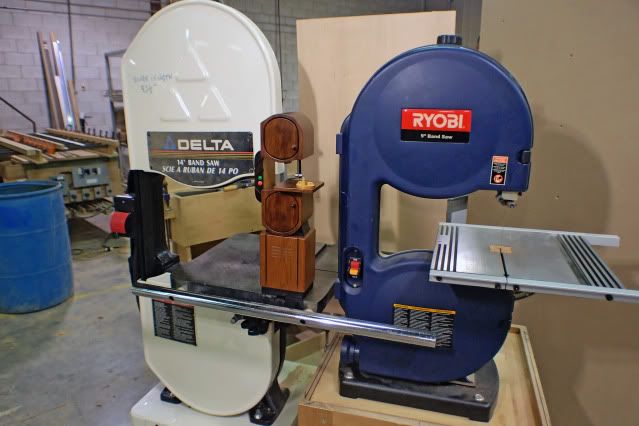 and the reward. none for the idjit tho

-- [email protected] : dovetail free since '53, critiques always welcome.
---
---
---
---