---
Sometimes we build small projects in our shop, pick em up with one hand, done in less than a day. This is not one of them. Rather, this is a little bookcase I made a few weeks ago with an assistant and installed in a very modern house.
The shelves on this unit are 14" deep by 2 1/2" thick and 192" long in one piece. That's sixteen feet for all you metric fans. Even laid up in a torsion box style they came in at 100 lbs. each, so you can see why we needed the lift for the trial assembly and final fitting. Admittedly there's not much wood here, just the front edges and backs but these days it's woodworking none the less.
The backs, which do not show well in these pictures, were a late change to the spray painted finish originally planned. Instead we used parchment, that ancient biblical material, stretched over plywood. They alone added $18,000 to the price. More than the price of my new truck. I've never been able to afford my own day work, but this was really beyond the pale.
The shelves pull tight to the uprights using steel keyhole clips and rest on strong stub tenons. No fasteners were allowed to show anywhere so the backs were installed in rebates from behind with about 700 screws after full assembly. Because of that, the unit had to be put together outside of its final resting spot and pushed into place. Let's see now. 8×100, plus the gables plus the dividers and backs equals about 1200 lbs. Brute force pushing with glossy laminate on the floor did the trick although beer was needed afterwards.
Projects such as this are a refreshing antidote to the small things I normally post here (!!!) Even though just as fussy (think jewelry box on the scale of a tennis court), they still provide daily satisfaction in problem solving and achieving crisp clean work. Finally, after all the complaining I've done here, that is my second assistant last pictured. She was demonstrating how her entire grade 3 class could have a nap on it with room to spare.
16"x126"x196"
About 200hrs.
Build on LJ's.
gene
The clip that holds it all together. KD usually but also semi-permanent too.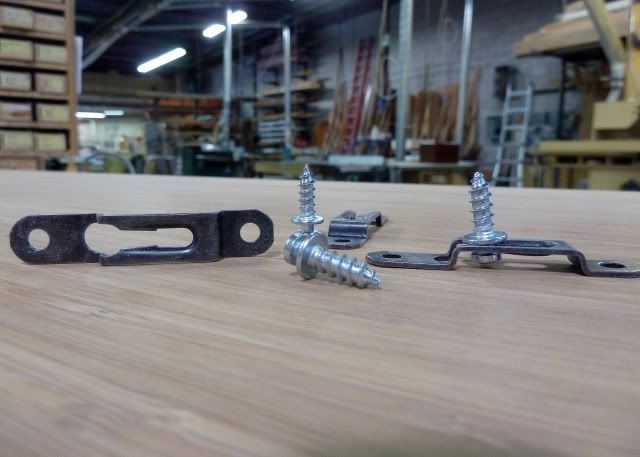 -- [email protected] : dovetail free since '53, critiques always welcome.
---
---
---
---