---
With a tip of the hat to 'tinnocker' who recently posted his Moxon bench. This bench incorporates some of his ideas along with several of my own and some tried and true details. My objective mostly was to use up some stuff laying around the shop and also raise my dovetail/endcutting procedures up a notch or two. Here's an under-construction view: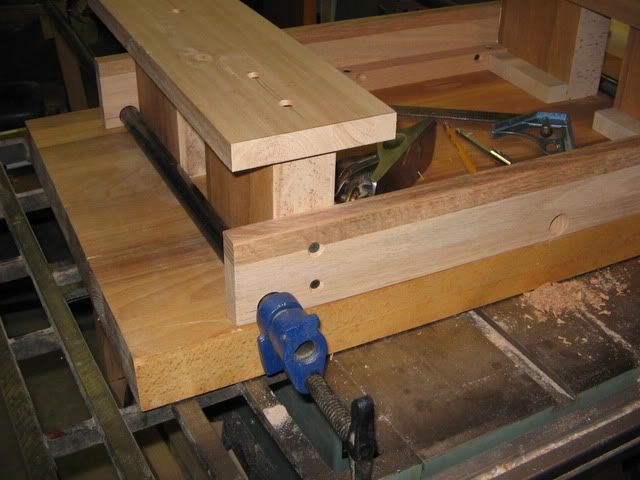 Showing how I used 1/2" pipe clamps instead of threaded stock or acme press clamps.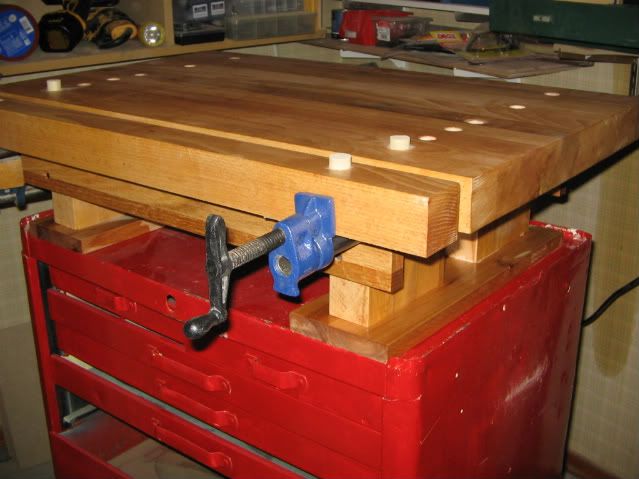 I used a beech laminated 18" X 30" top that I made long ago and applied the pipe clamps to it. I like the idea of pipe clamps for this application, squeezing the workpiece between layers of a butcherblock sandwich puts no strain on the glue joints between the laminated layers. Though, yes, I did bore holes for bench dogs anyway. Ultimately it may find a home atop that old rollaway toolbox base, it fits well there and I like the mobility feature. The 36" height of the base is perfect for me. I opted not to use a trestle leg design, it is plenty sturdy on 4 block legs cut from the cutoffs of the top.
Hope you like it!!
-- Einstein: "The intuitive mind is a sacred gift, and the rational mind is a faithful servant. We have created a society that honors the servant and has forgotten the gift." I'm Poopiekat!!
---
---
---
---