---
My first attempt to woodworking was two years ago : the building of a chessboard for my third son Francisco.
I blogged this story when I joined LJ
I do also have other sons, that each and every year have their own birthdays.
Happy birthday Juampi !!
The one in this project is finished and we have just gave to Juampi (my daughter Ines´ husband)
After finishing it, we flew to Rio de Janeiro were they live. And take the opportunity to keep up with Barak Obama who was visiting Rio as well. (I walked the streets while presumably Obama flew them by helicopter, anyway, yes we can)
Woods are Cedar and Guatambú, a yellowish quite hard tropical wood. Squares are 2".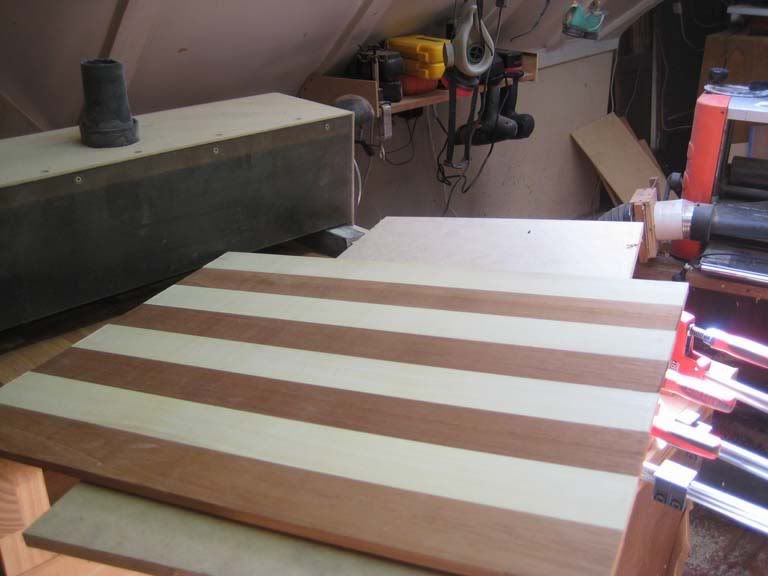 Building process was almost the same used for the first one, which turnwise I absolutely followed Steveinmarin youtube´s 7 part tutorial.
But with a tremendous difference: I now have Bessey paralel clamps, which made the gluing much easier than before.
I made only the board. No table for the time being since I wouldn´t be able to take it with me in the plane.
Finish is sanding sealer with limited buffing, since they wanted a non shiny board.
The chessmen were a present from her wife. Made out of elephant bones were brought from India during her last trip. A quite non regular fashion pieces.
When I vas routing the grooves in the mitered ends, the bluetooth connection failed, and the board didn´t stop. So the groove
went throgu the side. I inlayed a piece of guatambu (white wood) to make sure everyone see the mistake. But finally didn´t like it being isolated, and decided to plug an initial.
ANd yes, I now have a non iron signature as David, but without any tracking microchip.
Thanks
-- Back home. Fernando
---
---
---
---