---
Well I had more pics of the bed in progress on my smart phone. The images were too big to post, so you guys will just have to take my word that it is curly maple! I'll post more pics later.
This bed started out as a take my time project, since the online mattress company quoted me a three week delivery on the mattress. Nine days later, they were on the phone ready to deliver!! So I had to get busy!! It was a platform bed building marathon!!
The show wood is all curly maple from Rockler. The secondary wood is poplar. All of the lumber is 4/4 thick, except the legs, they are 1.3/4" down from 8/4 stock. The bed is supported by angle iron that is screwed to a 1" nailer board, and the head and foot boards are double mortise and tenon joints. I purchased a shoulder plane a few years ago, and have never used it. Although I did put an edge on the iron, and tested it. The mortises were cut, and the tenons were then cut to fit. I left the tenons oversized, in order to shoulder plane them to a perfect fit. The side raills were installed with bed hardware from Woodcraft, with special thanks to Dorje' for his beds inspiration and the heads up on the hardware!! I would've bought the hardware from Rockler, but they were having a sale on cherry that week!! Cherry is my weakness!!!!
The finish is once again, Transtint medium brown, BLO, and garnet shellac, and then two coats of furniture wax. The mattress is a Simmons Beauty Rest Firm Pillowtop. My first night's sleep was AWESOME!! Enjoy!!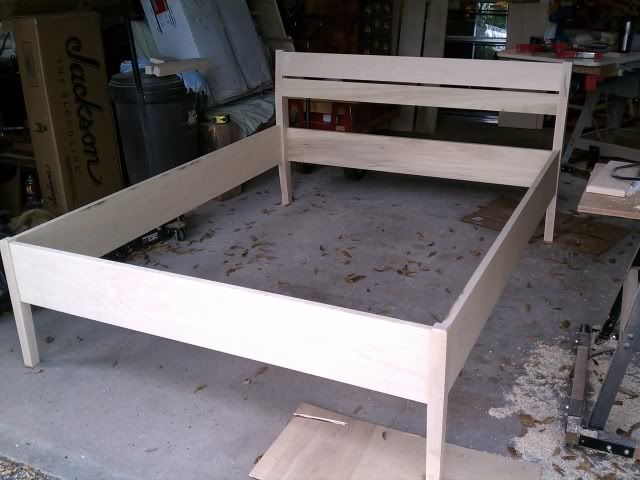 -- Matt Garcia Wannabe Period Furniture Maker, Houston TX
---
---
---
---