---
I made these a few months ago as gifts. Now that they've all been given, I can post about them. I got the idea after seeing Benchcrafted "Mag-Bloks" and decided to try to make some myself.
I picked up some random offcuts from a local wood place for a good price—cherry, walnut, red-oak, QS white-oak, and another wood (the two in the middle of the first picture—possibly oak?). I picked out the most interesting grain pieces and cut them down to 13.5" by 1.5". Routed a 1/2" wide groove 12" long on the back side fairly deep, leaving about 3/16" to the front face. Squared up the corners of the groove with chisels and epoxied in some rare-earth magnets. I put a slight chamfer on all of the visible edges and installed some counter-sunk washers for the brass screws.
Finished by pre-raising the grain and sanding it down, then applying 5 coats of hand-rubbed 50/50 salad bowl finish and mineral spirits.
Since there is no wood joinery in this project, it made for a good second project to further my skills with the tools I have and get some practice with finishing.
Some are being used in kitchens to hold knives, while other people wanted to hang keys and other metal doo-dads.
Thanks for looking!
—Edit—
Here is the back of one I have in progress with one of the magnets—ready to epoxy in the magnets and countersunk washers: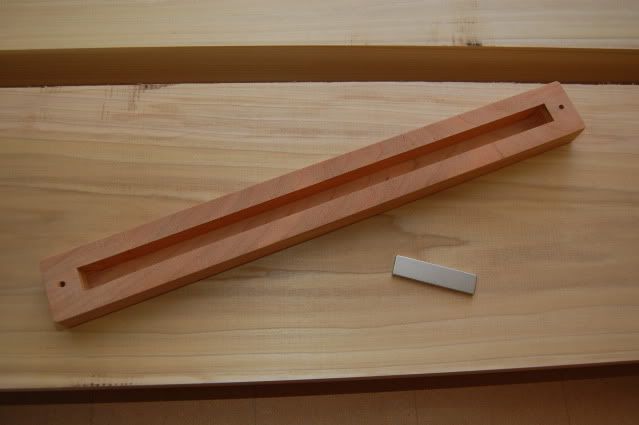 Counter-sunk washers are from Lee Valley
The first batch of magnets I ordered from Magcraft
I ordered the next ones from Applied Magnets
The magnets are 1/8" thick x 2" x 1/2"
-- Josh, Virginia , http://crossgrain.wordpress.com
---
---
---
---