---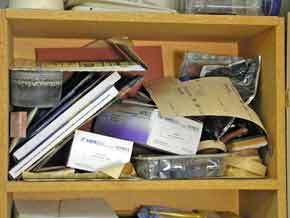 As you can see in the picture above I had a real problem with storing my sandpaper. I would just pile it up in the cabinet and every time I wanted a particular grit I would dig through the pile. I finally got tired of this and did something about it. I designed and made this handy little storage box. There is now a place for each different grit as well as storage for different shapes of sandpaper and sanding belts.
Here's a picture of my solution.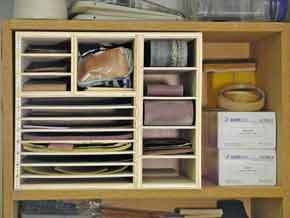 Here's a list of materials you'll need to buy.
3/16" X 4' X 4' plywood
1/2" X 4' X 2 1/2' plywood
3/4" X 12" X 13" plywood
Glue
Finish nails
Cut out the following pieces:
3/16" Plywood
Name Dimension
Top left shelves 4 1/4" X 11 7/16"
Left big shelves 9 3/4" X 11 7/16"
Right shelves 5" X 11 7/16"
Back 15" X 12 1/2"
1/2" Plywood
Name Dimension
Left and right 12 5/8" X 13"
Top and bottom 15 1/2" X 11 5/8"
Top left divider 4 11/16" X 11 7/16"
Left horizontal 9 3/4" X 11 7/16"
3/4" Plywood
Name Dimension
Right vertical 12 1/2" X 11 7/16"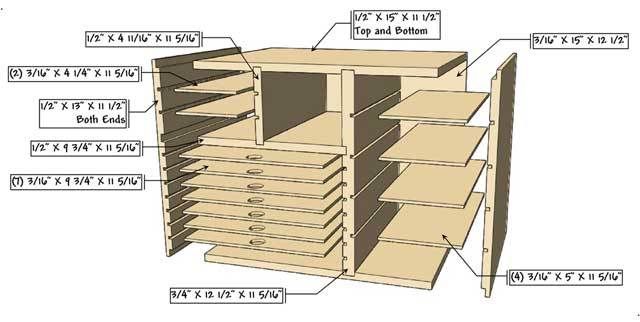 Next you will need to cut a bunch of dado's for everything to go together. Cut the dado's for the shelves 3/16" X 1/4" deep. Make all dado's 1/4" deep. Here are the interior dimensions of the cabinet.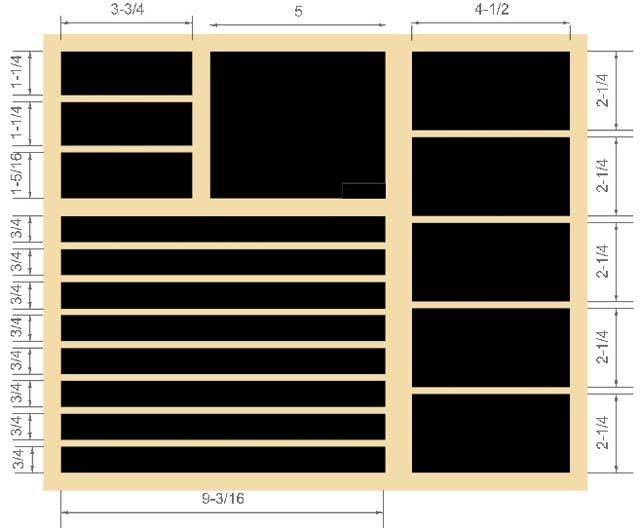 For the corners of the box I rabbeted the corners 1/4" X 1/4".
To put the hole in the sliding shelves I marked the location on one piece, stacked them and drilled one pilot hole through the stack.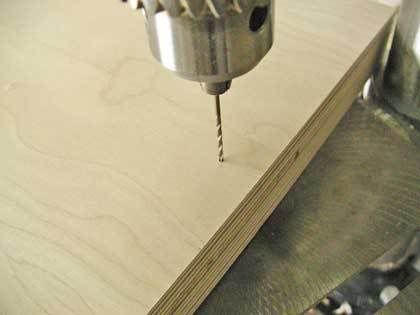 Next I used a 3/4" forsterner bit and drilled part way through each piece.
Flip each piece over and finish drilling from the other side.
Sand everything smooth.
Glue and nail the box together leaving the large shelves out of the box.
After it is dry sand the edges of the shelves so that they slide smoothly into the box.
You can apply a finish to it or leave it bare like I did.
I printed out labels for each sandpaper grit and glued it to the side of the box so I knew what sandpaper was where.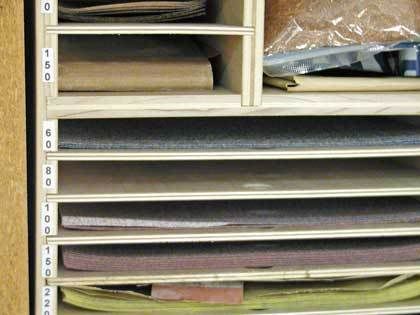 When you are done your sandpaper storage cabinet should look something like this.
-- Krisztian VA My website: www.vacarpentry.com
---
---
---
---