---
A friend of mine recently remodeled an in-law apartment above his house into a master bedroom suite. Part of the plan was to turn the former bedroom into a walk in closet. He got a bunch of quotes from some closet companies, and after looking at those he asked me if I could come up with a couple ideas, and what they would cost. He gave me some pictures and sketches of the room, and one of the quotes form California Closet Company. The quote was for some really basic, vinyl covered MDF boxes, no backs, hanging on the wall..and the price was expensive..relative for what they were getting. I thought we could do it better and I brainstormed a bit and came up with this first design…These all are renders of a Sketchup 3D model of the room. The cabinets in the model are almost all complete with full parts (backs, bottoms, dado's, rabbits) except for the guts on the low drawers. That was a last minute addition by the client and I didn't want to re model that cabinet completely if they didn't want the draws..


FULL SIZE IMAGE
This version featured maple ply boxes with Cherry face frames. The corner cabinets feature adjustable shoe/storage shelves that can be mixed. Its all trimmed in maple crown and maple colonial base going around the whole room to give it a true built in feel. The shelves are all adjustable except for the main ones dividing the larger cabinets. The draws have maple fronts with full extension self closers. There was also going to be a large dresser/storage island in the middle of the room that I hadn't yet designed. They really loved this design, except they weren't so hot on the cherry accents, they preferred all maple. OK, that will be nice too, and a little cheaper. So I asked my friend that owns Morris Woodworking to help me quote the job based on the prices he can get the materiel's for since he buys in bulk from commercial distributors. Well I wont say how much the quote was but lets just say that there's a reason you see nice closets like this in RICH peoples houses! Not to mention I am not a professional trim carpenter and cabinet installer so the curve on that would have been a bit steep. Even with the friend factor it would have been way more than they wanted to spend and I would have been working for free for a few weeks!
So, I looked at the California closets bid, and I basically mirrored it, changing the construction details to ply instead of MDF, added backs and real maple face frames and shelf edge, and dropped the trim and base molding. This is what I came up with..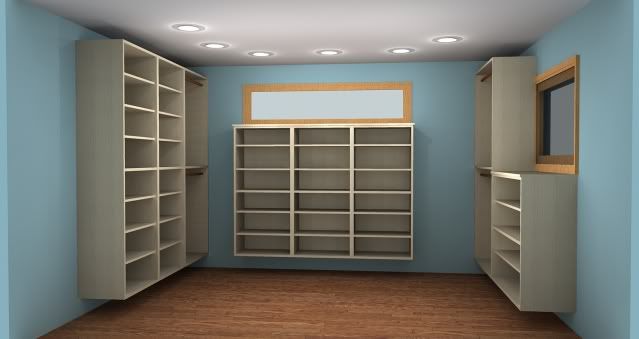 FULL SIZE IMAGE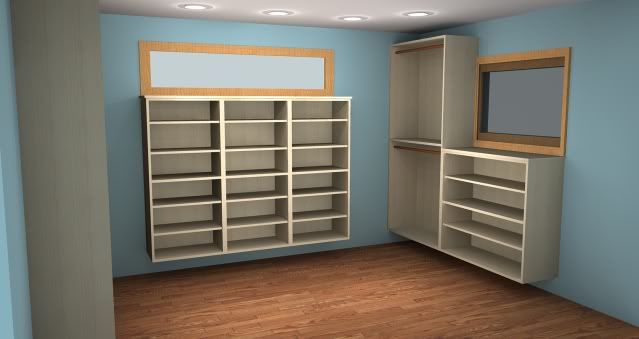 FULL SIZE IMAGE
They liked this design, but they wanted the low cabinet below the large window to be for shoe storage, so I made the modification and finished with this…


FULL SIZE IMAGE


FULL SIZE IMAGE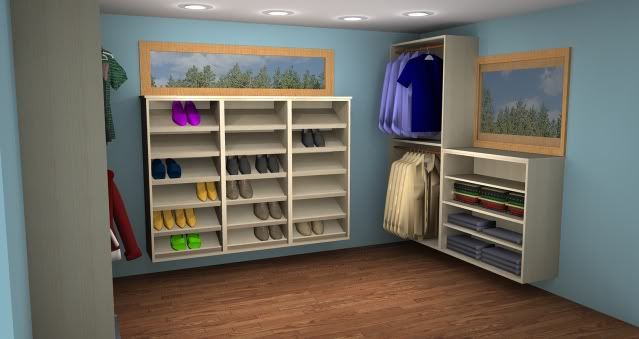 FULL SIZE IMAGE
They really liked this version. It doesn't look as built in as the other, but it's still a great deal of storage and with the center island would have made a great walk in closet. Unfortunately, the project got stalled out over the Christmas holidays, and some of the budget money was depleted as well! So for now it's on hold, but soon we might be able to make some sawdust fly on this one!
-- http://www.facebook.com/pages/DSO-Designs/297237806954248
---
---
---
---