---
Most drill presses were designed for metal work. I find the standard table on most drill presses just too small for woodworking and the lack of a fence against which to register a piece of wood severely limits the accuracy and repeatability that I need.
So I decided to make some modifications to my drill press table along the lines of a variety of commercially available modifications that I'd seen in woodworking magazines. The one that impressed me most was the table from Woodpeckers.
I used MDF for the table and fence and aluminum sail track instead of the more expensive track available from woodworking suppliers. The large surface on my table makes it easy to manage my wood. You will note the two 'wings' at each side of the table. These move with the fence. The white insert is cut from one of those white plastic cutting boards.
You might have seen my use of 'sail track' in my post on my bandsaw table modifications. Don't confuse this aluminum sale track with more expensive T-Track. [See my comment below to Obi to clarify this.]
The T-track shown below is similar to, but not exactly like the 'aluminum sail track' that I used in this drill press table or my bandsaw table. The outside corners in the sail track are slightly radiused.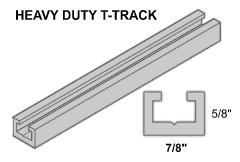 -- CanuckDon "I just love small wooden boxes!" http://www.dpb-photos.com/
---
---
---
---