---
I have FINALLY completed my drum sander project. I had been wanting to make a drum sander ever since I saw one on lumberjocks. The only problem was I didn't know if I wanted to make a finish sander or a thickness sander. So, I decided to make both! Its a 24 inch finish sander and thickness sander. The overall construction took close to a year because I never had the parts I needed and I never wanted to spend any money. So, I slowly started to accumulate some components that I thought would be useful. For the most part, almost everything was either found at a tag sale, or was stuff I had laying around the shop. I did have to purchase a few key components on ebay; like the conveyor belt, electric DC motor, and the potentiometer.
I originally made a scissor jack design, but it had disastrous results. My drill press and jigs just could not hold the tolerance and there were too many degrees of freedom to lock down. So, I reverted back to a typical piano hinge design. For the jack screw I simply flipped a shop fox veneer press upside down. The self aligning head on the press made it perfect for the tilting conveyor. The only problem with it is that the thread is rather corse so I can only do little turns. I think it would have been better to go with some threaded rod, but I really liked the handle on the veneer press.

The conveyor belt has a torsion box core with a mini torsion box that slides inside the larger one. This allowed me to put the conveyor belt on and then add tension. The bolts on either side of the belt act as tensioners and tracking screws. I just loosen or tighten one side and the conveyor belt shifts slightly form one side to the next. The bolt is held on by a right angle metal bracket I found at Home depot.
Because the top is so thin, I added some angle iron to stiffen it up. I then built a box around the drum and put a dust collection hood on the side. It is currently connected to a 5" dust port and does a good job eliminating the dust. The drum is a bunch of MDF disks epoxied together with velcro similar to other drums you find on LJs.

The conveyor is infinitely adjustable from 0-15 ft/min with a knob that is attached to a potentiometer. I found a great site on ebay called www.wondermotors.com that sells the whole setup pre-wired for reasonable prices. I connected the motor to the conveyor with a cain and sprocket setup. I made the motor mount out of some scrap UHMW. I also used a cutoff of UHMW for the chain tensioner. I made the guard from 1/4 inch thick plexiglass I had laying around in my shop.
The drum was attached to a hinged motor with a powertwist belt with two 3 inch pulleys. Like the chain, it was covered with 1/4 plexiglass.

After I built the frame (mostly from scrap hickory beams), I placed it on an old Ryobi table saw stand. It wasn't until after I put the whole thing together, that I realize how heavy it was. So I decided to build a mobile base. Considering that it was just an after thought, I'm very please how it turned out. I used a 2X3 I had laying around and some 3 inch casters. A simple door latch ensures it doesn't disengage when rolling. When disengaged, it sits on two rubber motor mounts and the two fixed wheels.
Wheels disengaged…

Wheels engaged held in place by door latch

In the end it was a very fun project. Its kind of funny now that its done, I'm not really sure what to use it for. Just for fun, I tried it out on a cabinet door. First I flattened the bottom side with the finish sander. Then I walked to the other side of the machine and put it through the thickness sander. It worked like a charm.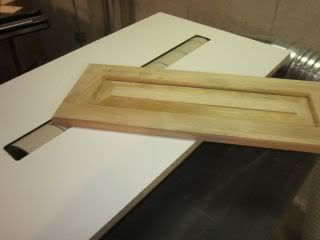 -- Tom, Simsbury, CT
---
---
---
---